'Kaleidoscope' Trailer: Toby Jones Leaves Clues Everywhere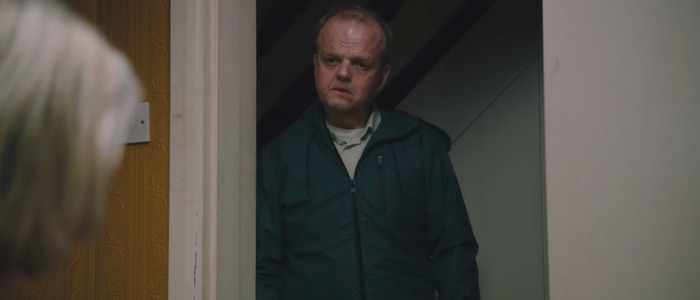 Toby Jones has serious mommy issues in the eerie new Kaleidoscope trailer. In this twisty thriller from director Rupert Jones, the Tinker Tailor Soldier Spy actor plays a man released from prison, trying to adjust to normal life. That proves difficult when his domineering mother arrives back in his life. Plenty of uncomfortableness follows.
In Kaleidoscope, Toby Jones continues his trajectory as one of those dependable English actors who makes an impact no matter what film he's in. The actor, who was recently seen in Atomic Blonde and The Snowman, lends his talents to Rupert Jones' new psychological thriller. The Kaleidoscope trailer will you give you a hint at what you're in store for here, while also doing a good job of not giving too much away.
Kaleidoscope trailer
This trailer is loaded with style, and evocative of thrillers like David Cronenberg's Spider and Michael Powell's Peeping Tom, and there's even a touch of Alfred Hitchcock's Psycho thrown in for good measure. Here's the official Kaleidoscope synopsis:
This intense, twisty thriller unfolds in the darkest corners of a man's mind. Recently released from prison, mild-mannered Carl (Toby Jones) quietly attempts to move on with his life. Just as he embarks on his first date in 15 years, Carl's fresh start is shattered by the sudden reappearance of his domineering mother (Anne Reid), whose presence awakens within him a deep-seated trauma. What unfolds is a brain-warping puzzle as reality and illusion, past and present collide and explode in violence. The debut feature from Rupert Jones is a provocative psychological mystery that asks: is it possible to escape our past?
Rupert Jones is actually Toby Jones' brother, which makes Kaleidoscope a bit of a family affair. In an interview with i news, Rupert Jones confirmed he wrote the film with his brother in mind. And while it wasn't the first script Rupert Jones sent his brother, it was the first one that actually caught Toby Jones' attention:
"I liked the atmosphere of it," he explains. "One of the things I'm most interested in is trying different kinds of projects. There's an area of non-narrative film-making like this, and I thought it'd be nice to do a film like that...Normally you're so locked into what a film means. But here was a project where he wasn't going to tell me what anything meant. I had to come up with my own journey through that."
Kaleidoscope opens in theaters and VOD December 8, 2017.