Netflix's 'Mudbound' Is Getting A Limited Theatrical Release On November 17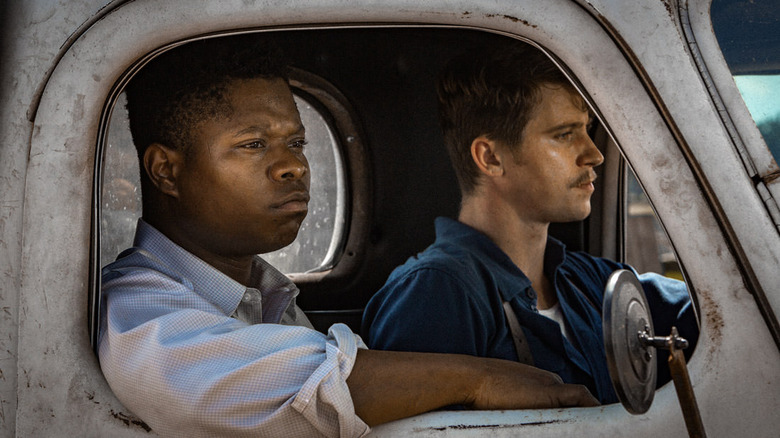 Netflix has butted heads with theater owners ever since they started producing their own original films. A few of their films, like the Idris Elba drama Beasts of No Nation, have made it to limited theater screens in the past, and now another of their original movies, director Dee Rees' southern family epic Mudbound, will get a limited theatrical release next week. But will it also be ignored when the next batch of Oscar nominations roll around, or will this be enough to position the film as a possible awards contender?
Here's the trailer for Mudbound, which comes from Pariah director Dee Rees:
Former /Filmer Angie Han reviewed the movie at this year's Sundance Film Festival, calling it a "sprawling epic" and dishing out praise to performances by Garrett Hedlund, Jason Mitchell, and Mary J. Blige:
Hedlund has perhaps never been better than he is here as Jamie, a firecracker of a man who seems determined to snuff himself out with liquor. Mitchell's role is less showy, but he's no less good — he's a master of expressing emotion with his eyes. The true surprise here, though, is Blige. She is downright unrecognizable as Florence. The role that requires her to strip away everything we know as Mary J. Blige: the striking looks, the the grand personality, the big voice. What emerges in their absence is a tough and tender portrayal of a mother who's sacrificed and suffered all her life, but is still capable of savoring the rare sweet spots life has to offer.
The movie won the Gotham Jury Award for ensemble performance and the audience award at Mill Valley Film Festival and the Middleburg Film Festival. It sounds like there's some real potential there for even more awards, and this theatrical release seems like Netflix's way of attempting to get Oscar voters to take this film seriously instead of thinking of it as a TV movie.
At the heart of Netflix and theater owners' long-running disagreement (which boiled over at the Cannes Film Festival this year) is the concept of exclusive release windows. Theater owners want movies to be available to see only in theaters for at least a few weeks before they move over to streaming, but Netflix insists on a day-and-date structure for every one of their original film releases – meaning that there's no exclusivity, and audiences could either choose to stay home and watch the film streaming on a small screen or pay to go out and see it in a theater if they prefer that experience instead.
Last year, though, Netflix signed an exhibition deal with a theater chain called iPic Entertainment to release some of their original films in limited theaters on the same day they become available on the streaming service, and Mudbound is the latest film to benefit from that deal. Here's the list of theaters where Mudbound will be available to watch on the big screen:
Atlanta – Landmark Midtown
Boca Raton – iPic Boca Raton
Boston – Landmark Embassy
Chicago – iPic Chicago Barrington
Los Angeles – iPic Westwood
Los Angeles – iPic Pasadena
Los Angeles – Laemmle Santa Monica
Los Angeles – Laemmle Noho
Nashville – Nashville Belcourt Theater
Philadelphia – Landmark Ritz
San Francisco – Landmark Opera House
Washington, DC – Landmark West End
Notice that there aren't any AMC or Regal theaters on that list. That's because they're still angry about the way Netflix is choosing to do business. (Netflix has previously said they're "open" to "supporting" the big chains if they're interested in releasing Netflix films in theaters, which probably rubbed the theater owners the wrong way even more.)
In any case, I'm glad some people will have the chance to see Mudbound in a theater if that's how they'd prefer to see it. I'll always be in favor of an option that puts the choice in consumers hands, and this release, even a limited one, at least does that for some segment of Netflix's subscriber base.
Mudbound arrives on Netflix and in limited theaters on November 17, 2017.
Set against the backdrop of the Mississippi Delta during the Jim Crow era after World War II,Mudbound is both a timeless and timely film following two families – one black, one white – bound together by the hardships of farm life. Starring Carey Mulligan, Jason Clarke, Jason Mitchell, Mary J. Blige, Rob Morgan, Jonathan Banks and Garrett Hedlund.
Mudbound 
is written for the screen by Virgil Williams and Rees and directed by Rees. It's based on the international bestseller by Hillary Jordan.