'Murder On The Orient Express' Proves That Daisy Ridley Will Escape 'Star Wars'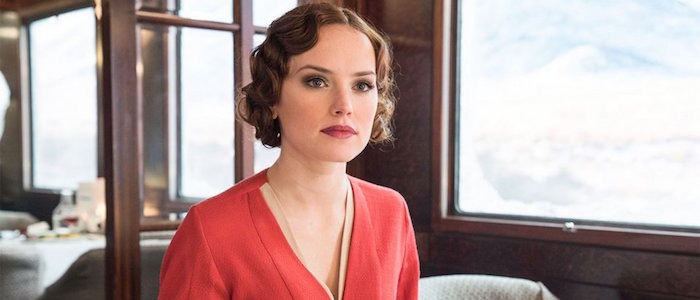 This year's holiday movie season brings us arguably the most widely anticipated blockbuster of the entirety of 2017: Star Wars: The Last Jedi. Rian Johnson's follow-up to the massively popular revival of the Star Wars franchise in 2015, The Force Awakens, is still five weeks away from release, and is all but guaranteed to be a similarly massive, critic-proof hit. However, this weekend offers a glimpse into a possible future for one of the new stars of The Last Jedi, Daisy Ridley.
Ridley, a relative unknown before being cast as Rey in The Force Awakens, has her first non-Star Wars movie in wide release this weekend, as one part of the vast ensemble of Kenneth Branagh's remake of Murder on the Orient Express. By the very nature of the Agatha Christie detective story that inspired Branagh's film (as well as the Sidney Lumet-directed adaptation from 1974), Ridley is not stepping fully into the spotlight here. She plays one of a handful of suspects of a vicious killing on an upscale intercontinental train, as a forthright governess with — of course — a secret past. So this is not the equivalent of Hayden Christensen taking a break from playing the petulant teenage version of Anakin Skywalker by starring in the true-story drama Shattered Glass. But it might work toward Ridley's benefit to gradually break away from Star Wars, expanding her talents as opposed to diving in headfirst to radically different roles.
In her handful of scenes in Murder on the Orient Express, Ridley is quite good as Mary, the young governess who believes that she could hold her own opposite the world-renowned detective Hercule Poirot (Branagh, as charmingly hammy as ever). Of course, Poirot is all but omniscient, able to easily pinpoint the possible romance Mary is trying to keep quiet between herself and Dr. Arbuthnot (Leslie Odom, Jr.), as the two young lovers both try to quell any scandal due to their interracial coupling. Though she's in far less of Orient Express than The Force Awakens (and presumably The Last Jedi), Ridley suggests that she's capable of following in the footsteps of other actresses who played the same role — Vanessa Redgrave in the 1974 film and Jessica Chastain in the 2010 BBC TV version — and that she won't be hamstrung by lightsabers and spaceships for her whole career.
When Shattered Glass opened in 2003, Christensen received far more praise than when he portrayed Anakin, in part because the sulky peevishness that marked his latter performance fit extremely well when playing the real-life figure Stephen Glass, a journalist who was eventually exposed as a fraud. His co-star in the Billy Ray film, Peter Sarsgaard, gained more specific praise as well as nominations at the Golden Globes and Independent Spirit Awards, but Christensen's take on a journalist who was very clearly committing journalistic scams even though he managed to convince a lot of his colleagues otherwise stood out. He wouldn't have been the first actor to catapult to larger fame because of Star Wars — Harrison Ford will always have that honor. But then, the larger fame never seemed to arrive for Christensen. Outside of the modestly well-liked 2008 film Jumper, his non-Star Wars starring roles petered out.
Since the initial fame brought on by The Force Awakens, Daisy Ridley hasn't avoided doing work outside of a galaxy far, far away, but the choices she's made have felt smaller and more personal. First, she provided a voice in the English-language dub of the long-awaited American release of Studio Ghibli's Only Yesterday, then narrated the documentary The Eagle Huntress. Post-The Last Jedi, she has bigger fare on the way, from providing a voice in a Peter Rabbit movie (with Star Wars co-star Domhnall Gleeson as the live-action lead) to starring as Ophelia in a cinematic retelling of Hamlet from Ophelia's perspective. What may be Ridley's biggest project comes in 2019, as she co-stars with Tom Holland in Chaos Walking, an adaptation of a recent YA-novel hit.
Murder on the Orient Express proves something almost as valuable for Ridley's future outside of Star Wars as a bigger role would: she can hold her own with acting titans. The film's stacked cast includes Branagh, Judi Dench, Penélope Cruz, Willem Dafoe, Michelle Pfeiffer, and Johnny Depp. (Depp's presence is now largely unwelcome in movies, but considering the odiousness of the character he plays in Orient Express, it's almost forgivable that he was cast.) A lesser actor might not be able to embody the sturdy sense of morals Ridley displays as Mary in her first scene with Branagh's outsized Poirot, set before the detective's even riding the Orient Express. As part of such a massive group of actors, it's hard to truly shine, but Ridley displays a radiance throughout that's charming. Her charisma is such that when Poirot himself acknowledges how much he seems to like Mary, compared to the other suspects, it's undeniably true.
When Shattered Glass opened a year after Attack of the Clones, it seemed to suggest that Hayden Christensen had a future outside of the Star Wars franchise, one that never materialized. Shattered Glass offered a glimpse into the kind of prestigious films Christensen could have taken on after he laid down the lightsaber. As she's still in the middle of the current Star Wars trilogy, there's only so much to know about how Daisy Ridley's career will manifest once she moves on. But Murder on the Orient Express, which is an old-fashioned and unabashedly theatrical murder mystery on its own, suggests that Ridley could follow a path similar to what Kate Winslet did in the 1990s. Winslet marked her early career with a massive blockbuster success (Titanic) and instead of getting just one shot at the spotlight, she transitioned into roles that affirmed her status as one of the greatest actresses of her generation. Ridley could end up moving in the same direction if she keeps stepping right.