'Hostiles' Trailer: Christian Bale Saddles Up For Scott Cooper's Bleak Western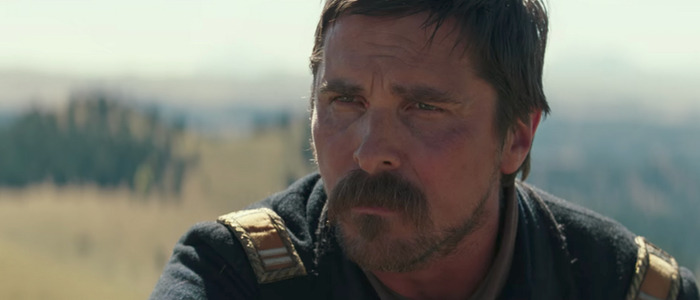 Christian Bale reunites with Out of the Furnace director Scott Cooper for Hostiles, a grim and gritty existential Western that looks like its striving to become a sweeping epic. Bale plays an Army captain tasked with escorting a dying Cheyenne war chief (Wes Studi) and his family back to tribal lands. Many shots of lonely vistas follow, which you can see on display in a new Hostiles trailer.
Before the year is out, Christian Bale will likely enter the award season conversation with his brooding performance in Scott Cooper's Hostiles. The film looks to have Bale bringing his trademark intensity to yet another role, set against the backdrop of the violent plains. The moody Hostiles trailer has just arrived to give us all a look at Bale and company in this grim Western.
Hostiles trailer 
Cooper has assembled quite a cast around Bale, including Gone Girl's Rosamund Pike, The Last of the Mohicans' Wes Studi, Hell or High Water's Ben Foster and The New World's Q'orianka Kilcher. Here's the official synopsis:
Set in 1892, Hostiles tells the story of a legendary Army Captain (Christian Bale), who after stern resistance, reluctantly agrees to escort a dying Cheyenne war chief (Wes Studi) and his family back to tribal lands. Making the harrowing and perilous journey from Fort Berringer, an isolated Army outpost in New Mexico, to the grasslands of Montana, the former rivals encounter a young widow(Rosamund Pike), whose family was murdered on the plains. Together, they must join forces to overcome the punishing landscape, hostile Comanche and vicious outliers that they encounter along the way.
First thing I couldn't help notice about the Hostiles trailer: it looks a lot like the 3:10 to Yuma remake, which also featured Christian Bale and Ben Foster. In that film, Bale also played a character transporting an adversary across a dangerous landscape to a predetermined destination. It's likely just a coincidence, but still, the similarity is a bit curious.
Scott Cooper's filmography is spotty at best. He clearly wants to go for big, bold pictures, and frequently assembles strong casts to do so, but the end results are often lacking. Case in point: his recent crime saga Black Mass, which had one hell of a cast of supporting actors and was telling a potentially riveting story, but ended up being a major disappointment. Hopefully Hostiles will be an exception. Reviewing the film for /Film at this year's TIFF, Marshall Shaffer wrote:
"Hostiles features far more big narrative events and skirmishes than the usual existential, moody tone poem, and it has two effects. The first is that it unfortunately makes the film a little uneven, but the second (and more positive) is that it gives Bale and his companions plenty of opportunities to brood over their actions and treatment of the Native population."
Hostiles opens December 22, 2017.