Live Action 'Star Wars' TV Show Confirmed By Disney, Will Be Available On The Company's New Streaming Service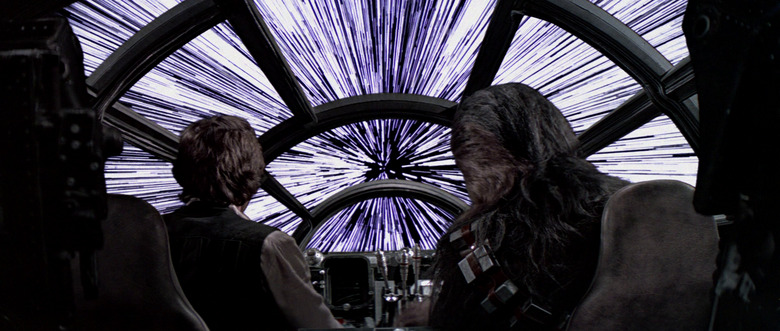 Following today's bombshell announcement that Star Wars: The Last Jedi writer/director Rian Johnson is developing a completely separate and brand new trilogy of Star Wars movies, today also brings the news that the long-rumored live action Star Wars TV show is officially happening. And a new Star Wars show isn't the only thing they're working on.
We gathered in the /Film bunker for an emergancy episode of /Film Daily, Peter Sciretta is joined by /Film weekend editor Brad Oman and Nerdist writer Amy Radcliffe to discuss the big breaking Star Wars news. You can subscribe to /Film Daily on iTunes, Google Play, Overcast and all the popular podcast apps (here is the RSS URL if you need it). Our original news story follows below.
***
Variety reports that Walt Disney Company chairman and CEO Bob Iger announced the news about a live action Star Wars show during the company's quarterly earnings call. He didn't offer any details about who the show might involve (either behind the scenes or in front of the camera), but the show will air on Disney's recently-announced streaming service. The service itself is expected to be operational sometime in 2019, but it's unclear if this Star Wars series will be ready to go in that year or if it may take longer to develop. Iger was quoted as saying, "Our plan on the Disney side is to price this [service] substantially below where Netflix is. That is in part reflective of the fact it'll have less volume." As Disney adds more content, the price of the subscription will increase.
Additionally, Iger mentioned that Disney's streaming service is working on TV adaptations of Pixar's 2001 film Monsters Inc., the Disney Channel series High School Musical, and an original series from Marvel. Again, there's no word on what any of those will actually entail or who might be involved, but the part about a Marvel series coming to the streaming service won't be a surprise to anyone who read our report about how Disney wants to move their Netflix shows over to that proprietary platform as soon as it launches.
While we don't know anything official about the Star Wars show quite yet, there's plenty of information out there about Lucasfilm's previous plans to bring live action Star Wars stories to the small screen. They spent years developing a series called Star Wars Underworld, which would have taken place between the events of Revenge of the Sith and A New Hope. We recently speculated that Dave Filoni, the executive producer of the hit animated series Star Wars Rebels, might be making the jump to a live action Star Wars show, and now that we know for sure it's happening, this could be a perfect opportunity for him.
We'll be sure to keep you posted with more on this story as soon as we hear about it, but in the meantime, I'd love to hear from you all. What do you want to see in a live action Star Wars show? Do you want it to be about characters we already know, or be more in line with what Johnson is doing with his trilogy and feature an all-new batch of characters instead?