Rian Johnson Will Create A Whole New 'Star Wars' Trilogy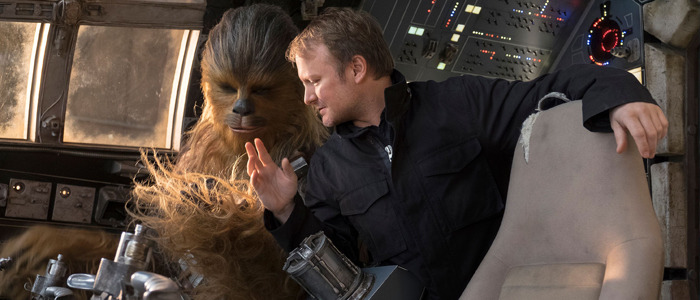 Star Wars: The Last Jedi director Rian Johnson is returning to the Star Wars universe for an entire new Star Wars trilogy. The new trilogy will focus on stories outside of the Skywalker saga. This news coincides with recent comments from Lucasfilm President Kathleen Kennedy about Star Wars films planned for after the current trilogy ends.
We gathered in the /Film bunker for an emergancy episode of /Film Daily, Peter Sciretta is joined by /Film weekend editor Brad Oman and Nerdist writer Amy Radcliffe to discuss the big breaking Star Wars news. You can subscribe to /Film Daily on iTunes, Google Play, Overcast and all the popular podcast apps (here is the RSS URL if you need it). Our original news story follows below.
***
Rian Johnson isn't done with Star Wars – he's just getting started. While Johnson's Star Wars: The Last Jedi isn't hitting theaters until next month, the filmmaker has already begun plans on a brand new Star Wars trilogy. The official Star Wars site just announced the news that Johnson has planned out a new trilogy "separate from the episodic Skywalker saga," and that "Johnson will introduce new characters from a corner of the galaxy that Star Wars lore has never before explored."
"Star Wars is the greatest modern mythology and we feel very lucky to have contributed to it," Johnson said. "We can't wait to continue with this new series of films."
This news comes on the heels of Lucasfilm President Kathleen Kennedy's recent comments about future Star Wars films. In an interview with The Star Wars Show, Kennedy said, "We're looking at the next 10 years of Star Wars stories...We're looking at narratively where that might go; future stories beyond Episode IX with these new characters – Rey, Poe, Finn, BB-8. We're also looking at people who are interested in coming into the Star Wars world and taking us places we haven't been yet."
With the news of the new trilogy announcement, Kennedy added, "We all loved working with Rian on The Last Jedi...He's a creative force, and watching him craft The Last Jedi from start to finish was one of the great joys of my career. Rian will do amazing things with the blank canvas of this new trilogy."
The most exciting element of this news – besides the involvement of a highly talented filmmaker like Johnson – is the prospect of opening up the Star Wars galaxy. So far, every Star Wars film, even the anthology film Rogue One and the upcoming Solo: A Star Wars Story, is connected in some way to the Skywalker saga. These films are covering ground, and characters, we're already aware of. Johnson's new trilogy promises to move us beyond that, which is great. There's a whole galaxy out there, after all. It'd be nice to get to see a lot more of it. This is also a huge vote of confidence for Johnson, proving that Lucasfilm and Disney are thrilled with what he did with The Last Jedi. 
Johnson will write and direct the first film in the trilogy, with his longtime collaborator Ram Bergman producing. No date has been set yet for any of these films, so keep your eyes peeled for that eventual announcement.
Star Wars: The Last Jedi opens December 15, 2017.