'Dark' Trailer: Netflix's Time Travel Thriller Wants The 'Stranger Things' Crowd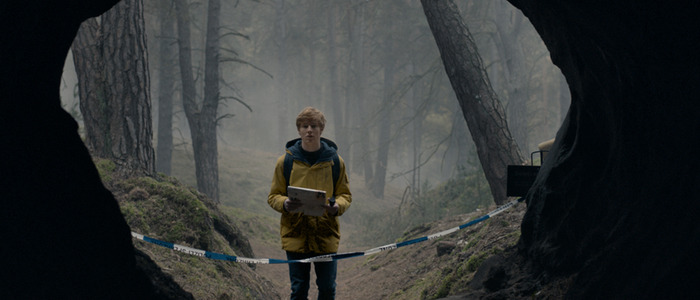 On the lookout for a new Netflix obsession? How about Dark, a new German series about disappearances, family drama and perhaps some time travel thrown in for good measure. A new, ominous Dark trailer has arrived to get its hooks into you ahead of the show's Netflix debut.
Done Mindhunter? Caught up on Stranger Things 2? Need a new Netflix show to obsessively binge over a weekend? May I present to you Dark, a new Netflix thriller from Germany that looks tailor-made to give you the creeps. It even has a bit of a Stranger Things vibe, if that's what you're looking for. Let's all watch it together, shall we?
Dark trailer
Spooky! It's interesting how heavy this trailer goes on showing groups of kids on bikes, almost as if Netflix sent a memo to the editors and said, "Hey, can you make this thing look as much like Stranger Things as possible?" That's fine, and it makes sense – Stranger Things is, after all, the most talked-about show on Netflix. Still, I don't think people should go into Dark expecting "the next Stranger Things." This looks like it's going to very much be its own show, one dripping with atmosphere and dread. And subtitles!
That said, Dark's creators, Baran bo Odar & Jantje Friese, are apparently a-okay with the Stranger Things comparisons. Speaking with Deadline, Friese said, "It's really exciting because if all those people who watched Stranger Things will at least think about watching Dark, I think that's a great opportunity for us...So keep comparing it."
"I think Netflix is a game changer here right now because they basically create all this interesting global material that everyone wants to watch—Narcos, for example, which basically isn't an American show, but it feels almost like an American show, and everyone watched it," added Odar. "It's a game changer—the audience is really hungry for international stories, as well."
Here's the official Dark synopsis:
Dark, a family saga with a supernatural twist, is set in a German town in present day where the disappearance of two young children exposes the double lives and fractured relationships among four families. In ten, hour-long episodes, the story takes on a supernatural twist that ties back to the same town in 1986.
Dark, starring Louis Hofmann, Oliver Masucci, Jördis Triebel, Maja Schöne, Sebastian Rudolph, Anatole Taubman, Mark Waschke, Karoline Eichhorn, and Stephan Kampwirth arrives on Netflix December 1, 2017.