Reese Witherspoon Bails On 'Pale Blue Dot' As 'Big Little Lies' Season 2 Ramps Up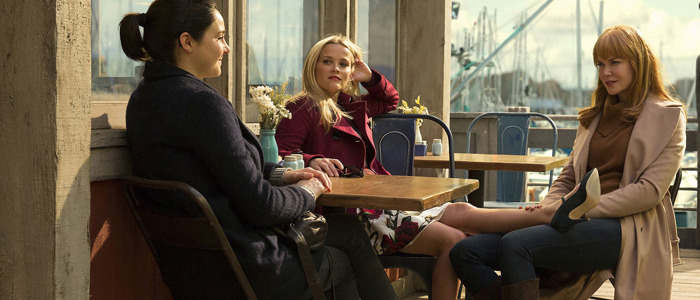 Big Little Lies is one of the best things I saw on television this year, and Emmy voters agreed with that assessment: the show won eight trophies at the most recent ceremony, taking home prizes for Outstanding Limited Series and Outstanding Lead Actress for Nicole Kidman (who did some of the best work of her career in the show).
Whispers of a second season began almost immediately after the first season ended, leaving many viewers conflicted: the first season wrapped up so well...could they possibly be able to top themselves by coming back for more? While HBO has yet to officially announce production on the start of Big Little Lies season 2, a new report says that the gang is getting back together again to head back to Monterey. And now star Reese Witherspoon has dropped out of a planned movie, so there's another piece of evidence pointing toward the inevitability of a second season.
First up, TVLine's sources tell them that "HBO is eyeing a Spring 2018 production start" for the second season of the hit series, and they say that executive producer/writer David E. Kelley recently told the outlet:
"We're kicking around ideas and trying to lasso the talent [and] get the band back together. It's just a lot of logistical things. But I'm optimistic because everyone wants to do it. We feel we still have storytelling to do. No decision has been made yet, but we're hopeful. Where we left it, I felt like it did open the opportunity for a lot more storytelling."
Meanwhile, Variety reports that Emmy nominee Reese Witherspoon has left the cast of Pale Blue Dot, a sci-fi film that was meant to be the feature directorial debut of Fargo and Legion creator/showrunner Noah Hawley. That film was to center around an astronaut who begins to lose touch with reality after she returns home from a mission, and considering how well Hawley depicted an untethered reality in Legion, he seems like a great fit for this project. Without a high-profile lead like Witherspoon, though, it's unclear whether he's still on board the project or if he's going to perhaps move on to direct that Doctor Doom movie he teased at San Diego Comic-Con.
While it's not 100% confirmed that Big Little Lies season 2 is definitely happening, Witherspoon's exit seems like convenient timing. Then again, there's always the chance she's leaving the movie in order to focus on her untitled new TV show alongside Jennifer Aniston as part of Apple's original programming slate. In any case, you should definitely click here to read everything we know about Big Little Lies season 2 thus far, including possible plotlines and comments from all of the major creatives (some of whom, like director Jean-Marc Vallee, have clearly changed their minds and are now more open to a second season).