'Black Panther' Character Posters Show Off An Awesome Cast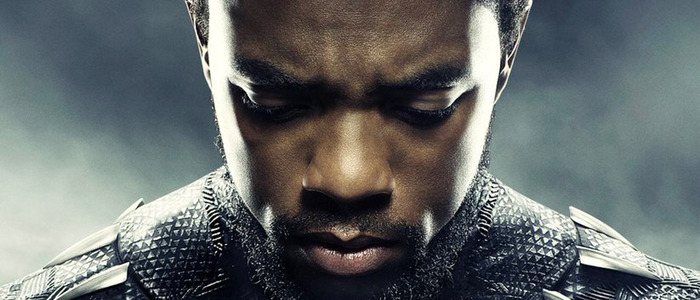 The sensational cast of Marvel's Black Panther took to Twitter today to unleash a plethora of really cool character posters, covering just about every single person in the film. Marvel doesn't have the best track record when it comes to posters, but these are pretty great. Check them out below.
While I've grown slightly fatigued with the constant stream of superhero movies, I'm very excited for Marvel's Black Panther, which has one hell of a director in Ryan Coogler and one dynamite cast to go with him. That cast (or at least, the interns who handle some of their social media accounts) jumped onto Twitter today to debut a whole bunch of neat character posters.
They're all here: Chadwick Boseman as T'Challa, aka Black Panther, king of the African nation of Wakanda; Michael B. Jordan as the villainous Kilmonger, who wants to overthrow T'Challa; Lupita Nyong'o as Nakia, T'Challa's former lover and an undercover operative of the Wakanda special forces; Danai Gurira as Okoye, another member of the Wakanda special forces; Letitia Wright as Shuri, T'Challa's sister and the princess of Wakanda;  Daniel Kaluuya as W'Kabi, T'Challa's best friend; Winston Duke as M'Baku, leader of Wakanda's mountain tribe, the Jabari, who are protesting T'Challa being king; Angela Bassett as Ramonda, T'Challa's mother; Forest Whitaker as Zuri, an elder statesman of Wakanda; Andy Serkis as Ulysses Klaue, a black-market arms dealer; and Martin Freeman as Everett K. Ross, member of the Joint Counter Terrorism Center. Have a look:
These all look great, although the Andy Serkis poster looks like someone is just out of camera range photobombing him with a department store mannequin hand. Here's the official Black Panther synopsis:
"After the events of Marvel's Captain America: Civil War, King T'Challa returns home to the reclusive, technologically advanced African nation of Wakanda to serve as his country's new leader. However, T'Challa soon finds that he is challenged for the throne from factions within his own country. When two foes conspire to destroy Wakanda, the hero known as Black Panther must team up with C.I.A. agent Everett K. Ross and members of the Dora Milaje, Wakanadan special forces, to prevent Wakanda from being dragged into a world war."
Whatever you think of Marvel's movies, you have to admit their posters usually leave a lot to be desired (remember that terrible Spider-Man: Homecoming poster with all the floating heads?), but these are solid. In fact, every piece of marketing related to Black Panther so far has been fantastic. Here's hoping the film lives up to all of it.
Black Panther hits theaters February 16, 2018.