The First 'Deadpool 2' Poster Assembles The Crew For Thanksgiving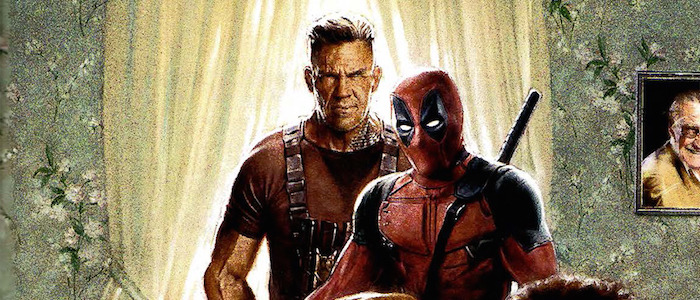 It's November, so you know what that means: Thanksgiving! And also marketing for movies arriving next summer! After all, 'tis the season for families to go to the movies so they can stop talking to each other for a few hours and 'tis the season to sell them on what's coming out in six months.
So leave it to Deadpool to take advantage of the holiday season. The first Deadpool 2 poster has arrived and it's a cheeky nod to America's annual excuse to eat too much turkey, assembling the cast for a feast.
The poster (via Collider) finds Ryan Reynolds' Wade Wilson standing at the head of the table, brandishing a turkey while Josh Brolin's Cable stands behind him. Their guest list also includes Zazie Beetz's Domino, who is set to make her grand debut in the film. Meanwhile, the survivors of the first movie have also assembled: Morena Baccarin's Vanessa, T.J. Miller's Weasel, Brianna Hildebrand's Negasonic Teenage Warhead, Leslie Uggam's Blind Al, Stefan Kapi?i?'s Colossus, and Karan Soni's Dopinder. Naturally, a certain Marvel comic book legend peeks in from the edge of the frame.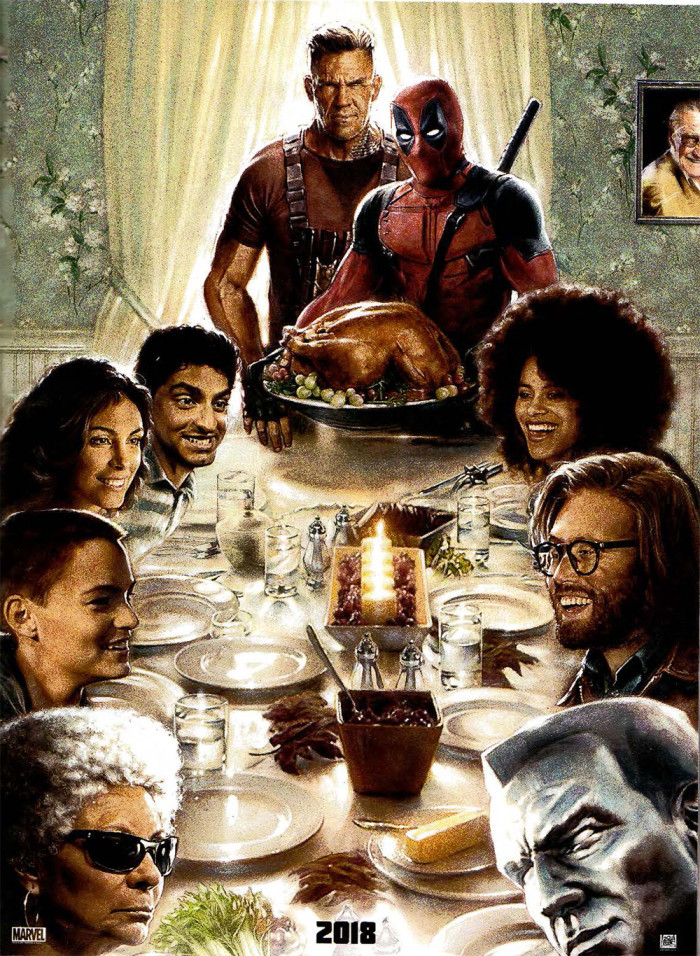 I love how closely it looks like the original pic.twitter.com/Cn620ZfDfb

— Chris Williams (@merechrisianity) November 9, 2017
The first Deadpool was an enormous box office success, quickly becoming one of the most successful R-rated movies of all time and proving there was an audience for adults-only superhero films. Much of that success can be attributed to the silly and self-aware marketing, which featured an always-game Reynolds wryly commenting on superhero tropes and beyond. So it's only fitting that the first poster for the film be a very silly Thanksgiving family portrait. It's only going to get goofier and stranger from here. Prepare yourself for a whole lot of Deadpool posters, teasers, trailers, and spots over the next few months. He will be everywhere.
Deadpool 2 is directed by Atomic Blonde's David Leitch, taking over for Tim Miller. Rhett Reese and Paul Wernick returned to write the screenplay. It's set to hit theaters on June 1, 2018.