'Game Night' Trailer: Jason Bateman And Rachel McAdams Have A Real Bad Time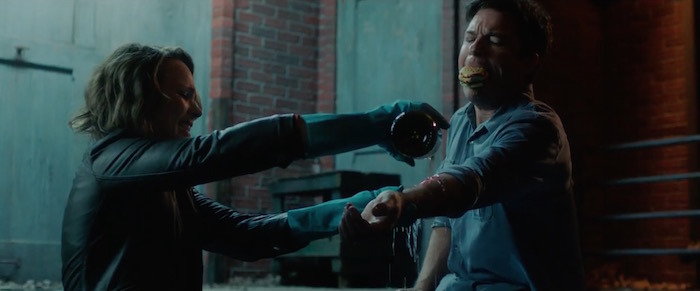 It's easy to imagine the pitch meeting for Game Night, a high concept dark comedy about an evening of frivolous fun gone horrifically wrong. "What if David Fincher's The Game starred a bunch of bumbling idiots?" Well, here you go. The first Game Night trailer is here, and I'll be the first to admit that it made me chuckle more than a few times.
This is a low comedy, but there's nothing wrong with a low comedy that works! Jason Bateman and Rachel McAdams lead a strong cast as a couple whose weekly game night spirals out of control when an interactive "murder mystery" element is introduced. But what's real and what's not? And why are people actually dying and why are guns going off? And why is that dog covered in blood?
Game Night Trailer
Most importantly, Game Night is a Friday Night Lights reunion, once again putting Kyle Chandler and Jesse Plemons within spitting distance of each other. Texas forever!
While this is undeniably a glossy studio comedy hoping to please the broadest audience possible, I'll just be honest with you and admit that yes, I laughed during this trailer. I laughed a lot. I especially laughed during the plane engine gag, an amusing bit brilliantly punctuated by McAdams' line delivery. While I'm not a fan of Vacation, the previous film from directors John Francis Daley and Jonathan Goldstein (okay, it's straight-up rotten), the dark edge on display in this footage has my attention. After all, Bateman has been at his best when his "straightforward nice guy" persona is pushed to uncomfortable extremes, and McAdams is a frequently underutilized comedic talent. Bring it on.
Here's the official synopsis:
Bateman and McAdams star as Max and Annie, whose weekly couples game night gets kicked up a notch when Max's charismatic brother, Brooks (Chandler), arranges a murder mystery party, complete with fake thugs and faux federal agents. So when Brooks gets kidnapped, it's all part of the game...right? But as the six uber-competitive gamers set out to solve the case and win, they begin to discover that neither this "game"—nor Brooks—are what they seem to be. Over the course of one chaotic night, the friends find themselves increasingly in over their heads as each twist leads to another unexpected turn. With no rules, no points, and no idea who all the players are, this could turn out to be the most fun they've ever had...or game over.
Game Night also stars Billy Magnussen, Sharon Horgan, Lamorne Morris, Kylie Bunbury, Danny Huston, and Michael C. Hall and opens on March 2, 2018.