Guillermo Del Toro's 'Pinocchio' Is Not Happening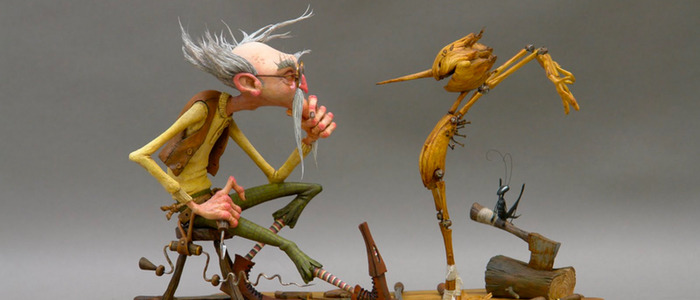 Another day, another potential Guillermo del Toro project that we'll never see. Mr. del Toro is one of the best filmmakers in the business, and he has a tendency to find himself attached to numerous projects, some of which actually get made, others which slip into oblivion. Sadly, it looks like del Toro's take on Pinocchio falls into the latter category. The Shape of Water filmmaker recently confirmed his Pinocchio film is officially cancelled. It seems no amount of wishing on a star will make the dream of the Guillermo del Toro Pinocchio movie come true.
Guillermo del Toro has an entire universe of potential projects that never got off the ground: At the Mountains of Madness, Hellboy III, The Haunted Mansion, and so on. And then there were his potential films that ended up being made without him, like the Hobbit films, Beauty and the Beast and Harry Potter and the Prisoner of Azkaban. Now it looks like that ever-growing list has a new addition: Pinocchio.
Del Toro has been working on an adaptation of his anti-fascist take on Pinocchio since at least 2008, hoping to turn the story into a stop-motion adaptation of the art of Gris Grimly. The filmmaker was working with The Jim Henson Company to bring the project to life. Here's what del Toro had to say when the project was first announced:
"We are trying to get a full stop-motion version of Gris Grimly's PINOCCHIO off the ground, with the Jim Henson Company. The idea came from Gris, and everybody loves his book about it. The original story is far more perverse and spooky and semi-necrophilia vibe to it in certain aspects. Gris certainly has that vein in him, he wants to do this with that original spookiness in it, we are trying to get it going."
Sadly, this never came to be. Speaking with IGN, del Toro confirms that his Pinocchio will never be a real boy:
"It's not happening. But the idea was to do Pinocchio during the ascension of fascism in Italy, with Mussolini. It was a good time to discuss the idea of being a puppet or being a human, but you know, it's not in progress."
Like most del Toro projects, this sounds like it could've been wonderful. But alas, we'll never get to see it. I'm sure eventually the folks at Disney will get around to make their own Pinocchio anyway, since they seem to want to turn all their classic animated tales into live-action now. I'm pretty sure the Disney version won't deal with fascism, though.
For his part, del Toro is practical about the fact that some of his projects never see the light of day. "I'm 53, I want to not know what I'm doing next, it's like a privilege," the filmmaker says in the IGN interview. "That's why I'm taking the year off, as a director to really think about what I'm doing next. All of those projects, some of them happen and some of them don't. The natural state of a movie is not to happen. That's the reality."
In the meantime, look out for del Toro's next film The Shape of Water, opening December 1, 2017.