'Hey Arnold! The Jungle Movie' Trailer: The Football Head Returns This Thanksgiving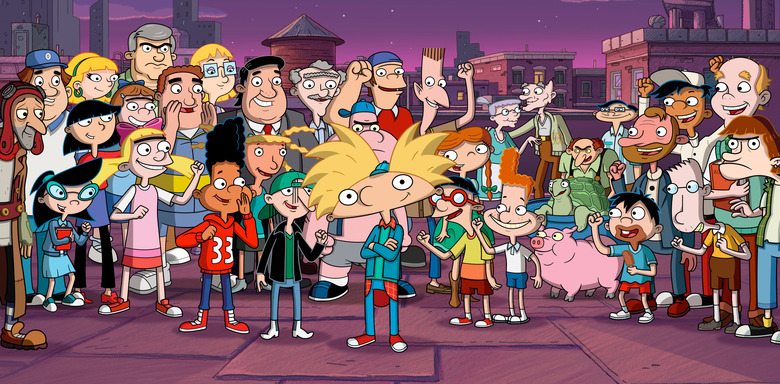 It's been 13 years since Nickelodeon's original animated series Hey Arnold! went off the air, but everyone's favorite football head will return to the children's cable network just in time for the Thanksgiving leftovers.
Hey Arnold! already received a feature film back in 2002, but now a new TV movie is slated to premiere on Nickelodeon on November 24, the day after Thanksgiving. The first trailer for Hey Arnold! The Jungle Movie has arrived online, and it features Arnold, his best friend Gerald and even football head's secret admirer Helga heading into the jungle to find some answers to the show's biggest questions. Specifically, they're trying to find Arnold's parents.
Hey Arnold! The Jungle Movie Trailer
Hey Arnold! was one of the last NickToons that I watched loyally before I started to grown out of Nickelodeon's target demographic and headed over to their parent company's more age appropriate network, MTV. While nostalgia is certainly strong for revivals like this, I must say that I'm not all that thrilled with this trailer.
Perhaps the biggest problem with a Hey Arnold! revival is that the show's original voices for the main characters aren't the same anymore. Instead, it's Mason Vale Cotton as Arnold and Benjamin "Lil' P-Nut" Flores, Jr. as Gerald. The TV movie still features Francesca Marie Smith as Helga and Anndi McAfee as Phoebe from the original series, but it's still not quite right.
The good news is that Lane Toran (original voice of Arnold) and Jamil Walker Smith (original voice of Gerald) do have a role to play in this as Che and Paulo, two members of the boat crew in San Lorenzo. Perhaps there will be some kind of inside joke when the new voices of Arnold and Gerald interact with those characters in the movie.
We will also see the return of Justin Shenkarow as Harold, Olivia Hack as Rhonda, Nika Futterman as Olga, Dan Butler as Mr. Simmons, Dan Castellaneta as Grandpa, Tress MacNeille as Grandma, Antoinette Stella as Stella, Carlos Alazraqui as Eduardo, Dom Irrera as Ernie, Maurice LaMarche as Bob Pataki, Kath Soucie as Miriam, Danielle Judovits as Big Patty, Danny Cooksey as Stoop Kid, Jim Belushi as Coach Wittenberg and Craig Bartlett as Miles.
Otherwise, Nickelodeon somehow managed to snag Alfred Molina (Spider-Man 2) as the voice of the villain Lasombra. And there's also new voices such as Gavin Lewis as Eugene, Jet Jurgensmeyer as Stinky, Aiden Lewandowski as Sid, Laya Hayes as Nadine, Nicolas Cantu as Curly, Wally Wingert as Oskar and Stephen Stanton as Pigeon Man.
Nickelodeon's NickSplat programming block on TeenNick will be celebrating Hey Arnold! leading up to the release of the V movie by having fan favorite episodes air from 12am-1am ET/PT, as well as a marathon of every single episode of the original series airing from November 17 through November 24 from 11pm-6am ET/PT.
If you happen to miss the premiere of Hey Arnold! The Jungle Movie on November 24 at 7pm ET/6pm CT, you can catch an ecore of it on TeenNick on both November 25 and December 1 at 12am ET/PT. In the meantime, here's the official synopsis for the movie:
Your favorite Football Head is back and is headed for the big screen! Venture along with Arnold, Gerald, Helga, and the rest of the P.S. 118 crew on the field trip of a lifetime! Will Arnold find his parents after all these years? Will Helga finally confess her undying for Arnold? Will your heartstrings be able to handle this flick? Find out all the answers this Thanksgiving weekend on Nickelodeon!