Shawn Levy To Direct 'Crater', A Sci-Fi Coming-Of-Age Film Set On The Moon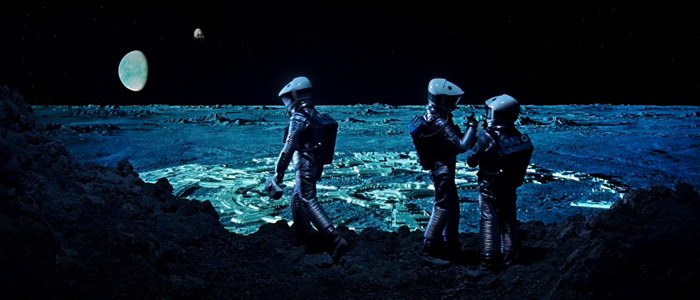 What's the first thing that comes to mind when you think of director Shawn Levy? For many movie-literate fans, the answer is probably the uber-bankable Night at the Museum film franchise. But lately, Levy has earned some Cool Points™ as a producer of Netflix's mega-hit series Stranger Things, and now it sounds like he's found a sci-fi coming-of-age story of his own to direct with Crater.
Variety reports that 20th Century Fox has purchased the script for a sci-fi movie called Crater which Levy intends to direct. Here's their description of the plot:
Crater is described as a coming-of-age story in the vein of Stand By Me, set on a moon colony. After the death of his father, a boy growing up on a lunar mining colony takes a trip to explore a mysterious crater, along with his four best friends, prior to being permanently relocated to another planet.
Levy spent some of his early years in the industry directing episodes of shows like The Secret World of Alex Mack, Animorphs, and The Famous Jett Jackson. Say what you will about the guy's directorial efforts (and hey, I really dig Real Steel!), but with that early work and his work on Stranger Things, he certainly has a good handle on high concept premises involving child protagonists. (He also produced The Spectacular Now, a terrific coming-of-age indie movie from a few years ago.) Crater sounds like it's very much in his wheelhouse.
The script comes from writer John J. Griffin, and this will mark his first produced project. Griffin apparently did some work on a screenplay for a movie that hasn't been made yet called Romeo & Juliet: The War, which, frankly, sounds like a godawful concept; however, the good news is that Crater ended up at #5 on the 2015 Black List – a list of the best unproduced screenplays of the year that's voted on by industry insiders. The original idea for the movie came from a VFX veteran named Rpin Suwannath (most of the X-Men movies, Superman Returns, 2014's Godzilla), who will now be one of this film's executive producers.
What do you think about the concept for Crater? Do you envision it being a new favorite for the young adult crowd, or do you think it could have the same level of crossover potential as something like Stranger Things?