Apple Gives Jennifer Aniston And Reese Witherspoon's Morning TV Drama A Two Season Order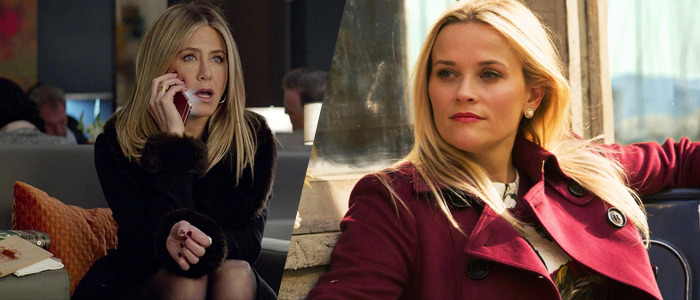 Back in July, we found out that Jennifer Aniston and Reese Witherspoon were planning to reunite (after Witherspoon's brief guest stint on Friends) to star in a television drama about the cutthroat world of morning TV shows. Apple was among the many potential buyers to be interested, and now the tech giant has officially given the untitled series a two season order as part of their foray into original programming.
We've been talking a lot about Apple's entry into original TV programming, but now the company has signed on the dotted line and made things official with the two shows it was previously courting: a reboot of Steven Spielberg's sci-fi anthology series Amazing Stories (which we wrote about last month) and this untitled drama from Aniston and Witherspoon. Both shows have been given a straight-to-series order, and Variety reports that the morning TV show drama has earned a two-season order with each season scheduled to include ten episodes.
Jay Carson (House of Cards) is writing the pilot and serving as the showrunner. Michael Ellenberg of Media Res came up with the concept, and the female-led series "will draw background material from CNN senior media correspondent Brian Stelter's 2013 book Top of the Morning, which recounted the recent rivalry between NBC's Today and ABC's Good Morning America."
While Apple has been trying to attract high quality storytellers to produce their new programming, no one yet knows exactly how audiences will be able to watch any of their series when they're ready for consumption. A recent report from Bloomberg indicated that we shouldn't expect foul language or nudity in their first batch of shows, because everything they produce (at least at first) is intended to be able to play in Apple stores across the country:
Apple isn't interested in the types of shows that become hits on HBO or Netflix, like Game of Thrones—at least not yet. The company plans to release the first few projects to everyone with an Apple device, potentially via its TV app, and top executives don't want kids catching a stray nipple. Every show must be suitable for an Apple Store. Instead of the nudity, raw language, and violence that have become staples of many TV shows on cable or streaming services, Apple wants comedies and emotional dramas with broad appeal, such as the NBC hit This Is Us, and family shows like Amazing Stories.
So will they use the TV app, or will they release these shows through iTunes and make audiences pay per episode or per season? Will they use a more traditional advertising model to pay the bills, or will they require a subscription to watch this content? Stay tuned as we learn more about the first legitimate batch of Apple TV shows. (Let's all pretend that last year's Planet of the Apps and Carpool Karaoke never happened.)