'Mosaic' Trailer: Steven Soderbergh's Interactive App Is Available Now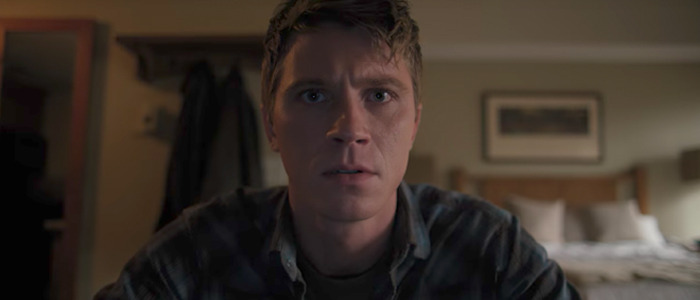 Director Steven Soderbergh's latest experiment has arrived. After investigating different financing models for Logan Lucky earlier this year, the filmmaker has unveiled a new interactive project called Mosaic, which will be broadcast as a six-part limited series on HBO in January. But you don't have to wait until then to see the story play out. Mosaic is also an interactive app that's available to download for free right now; using branching narratives, users can choose which perspective to watch the story unfold, and dive back in and explore the narrative from different angles once the story is over to see what you missed.
Watch the new Mosaic trailer below, and learn more about what the press release says "could be the next step in storytelling."
I'll let the press release lay it out how this works:
In the MOSAIC app, as in life, the path you pick affects your perception of reality. What one viewer may consider a fundamental fact on one path may be an insignificant piece of trivia on another — or may not even be a "fact" at all.  As its title suggests, MOSAIC isn't complete until all the pieces are viewed from their proper perspectives.
MOSAIC lets viewers experience the story from multiple perspectives, going deeper to see the big picture:
- Film view: Watch the film in full-screen, immersive mode.
- Choice moments: Select which character's perspective you want to adopt to continue your journey.
- Discoveries: Dive deeper into the story through additional content, including voicemails and emails between the characters, police reports, news clippings, and more.
- Look again: Go back and view the perspectives you missed to get the full picture.
After launching the app, users are introduced to famed children's book author/illustrator Olivia Lake (Sharon Stone) and two men who will soon play important roles in her life: Joel (Garrett Hedlund), a handyman and aspiring artist, and Eric (Frederick Weller), a suitor whose motives may not be genuine. Once the introductions are complete, users must decide whether to follow the next portion of the story from Joel's or Eric's perspective.  Along the way, they'll meet a number of new characters with their own versions of the story to tell.
Soderbergh shot multiple interactions from multiple perspectives to account for choices the users would make about who they'd want to follow through the story, and the result looks absolutely fascinating.
Mosaic trailer
The filmmaker and the team at a media tech company called PodOp have been working on this for three years. (So in addition to making Beyond the Candelabra and The Knick, he was also developing this – sounds like the most productive retirement period of all time.) Soderbergh developed Mosaic with producer Casey Silver (Godless) and in conjunction with writer Ed Solomon (Men in Black, Now You See Me), whose complex script sounds like it must have been a beast to complete.
Here's what Soderbergh had to say about Mosaic at this month's Tokyo International Film Festival:
"I was intrigued by the idea of branching narratives, although I'm not really a gamer, and the engagement between gaming is different from watching a film. But this opportunity and the kind of technology we're developing satisfied my desire to remain in control of the storytelling, and to have the choice moments [when viewers make story choices] feel organic, rather than disruptive. It feels like a continual experience, rather than one that starts and stops. I think it's the cave painting of this new technology. It has enormous potential, and I'm anxious to see other filmmakers take it and run with it."
Beau Bridges, Paul Reubens, Jennifer Ferrin, Devin Ratray, Michael Cerveris, James Ransone, Jeremy Bobb and Maya Kazan co-star. Here's a video interview with some of the cast:
The Mosaic app is available for free right now for iPhone, iPad, and Apple TV (an Android version is coming soon), and the six-part limited series debuts on HBO on January 22, 2018.