'Ferdinand' International Trailer And Clip: Don't Judge A Bull By Its Cover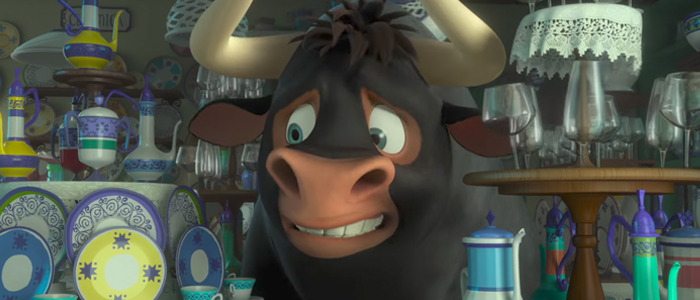 In the wake of trailers like Peter Rabbit and Sherlock Gnomes that dropped earlier today, 2oth Century Fox and Blue Sky Animation's upcoming movie Ferdinand looks almost pleasant. Sure, there are the butt jokes that seem to be a requirement in all non-Disney or Pixar animated kids films these days, and yes, things get a bit too on the nose when the titular bull (voiced by John Cena) ends up in – you guessed it – a china shop, but all things considered, this could be a whole lot worse. Check out a new international Ferdinand trailer and a new clip below.
Ferdinand trailer
Ferdinand is about a bull who, despite his appearance, is just a light-hearted and cheerful creature with no intention to bother or hurt anyone. But when he freaks out after receiving an accidental bee sting, he's wrangled up and taken to the equivalent of an animal prison, where he befriends the other "inmates" and orchestrates a breakout so he can get back to his beloved friend.
Here's a clip showing sections of the inciting incident:
So...yeah. Nothing subtle about this one.
The film is based on a beloved 1936 children's book that Adolf Hitler wanted to burn during his time in power, so don't be surprised if you see any neo-Nazis protesting this adaptation when it comes out next month. Walt Disney adapted the book into a short that won an Oscar (watch that here), and this film stretches the story out to be feature length.
John Cena stars, transitioning from live-action comedies like Trainwreck, Sisters, and Daddy's Home 2 into family friendly voiceover work. I've enjoyed his recent live-action output, though I'm not sure how much he'll be able to work out his acting muscles in a project as broad as this one. In any case, at least a nice supporting cast is along for the ride: SNL star Kate McKinnon, Jane the Virgin's Gina Rodriguez, Hamilton actor Daveed Diggs, Gabriel Iglesias, Bobby Cannavale, former Doctor Who David Tennant, Anthony Anderson, Jerrod Carmichael, and more.
FERDINAND tells the story of a giant bull with a big heart. After being mistaken for a dangerous beast, he is captured and torn from his home. Determined to return to his family, he rallies a misfit team on the ultimate adventure. Set in Spain, Ferdinand proves you can't judge a bull by its cover.
Ferdinand arrives in theaters on December 15, 2017.