'Peter Rabbit' Trailer: Domhnall Gleeson Vs. Cartoons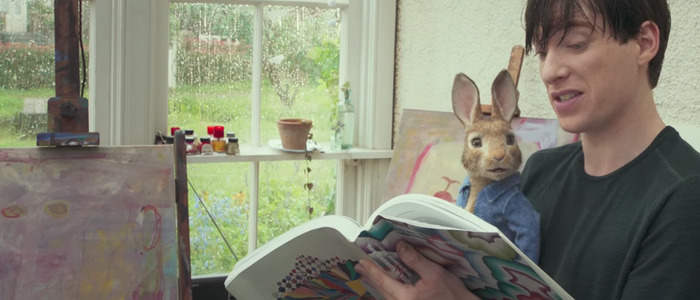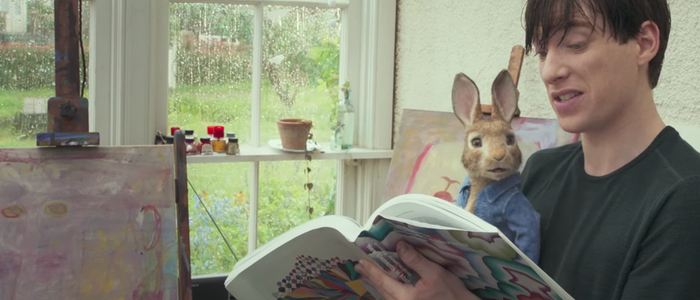 If you've longed for the day when Domhnall Gleeson does battle with a horde of cartoon animals, you're in luck! In Peter Rabbit, Beatrix Potter's storybook classic comes to life, sort of, in a modern setting. James Corden voices the eponymous rabbit, leading a cast of CGI animals in a film full of pratfalls and sight gags. Watch a new Peter Rabbit trailer below.
Domhnall Gleeson (Star Wars: The Force Awakens) leads a pretty stellar cast in Peter Rabbit, an in-your-face family comedy update of Beatrix Potter's timeless children's story. In the film, Peter Rabbit (voiced by James Corden) and his animals pals (voiced by Daisy Ridley, Margot Robbie, Elizabeth Debicki and more), struggle to reclaim the land they think is rightfully theirs. Unfortunately, mean Mr. McGregor is having none of it, locking off the land and striving to protect his vegetable garden from these pesky pests. What are a group of CGI animals to do but tear McGregor's life apart in their quest to eat all the food he's grown? Watch the new Peter Rabbit trailer below, and bask in how much yelling there is.
Peter Rabbit trailer
Apparently realizing that the original Beatrix Potter story was too slim to fill out a full movie, Peter Rabbit director Will Gluck (Annie) has also added a weird love triangle to the plot, wherein both Peter and Mr. McGregor vie for the affections of their next door neighbor, played by Rose Byrne. Sure, why not? Sam Neill is also in this film somewhere, which makes this an exceptionally well-cast movie. Here's the official synopsis:
In Peter Rabbit, the mischievous and adventurous hero who has captivated generations of readers now takes on the starring role of his own contemporary comedy. In the film, Peter's feud with Mr. McGregor (Domhnall Gleeson) escalates to greater heights than ever before as their fight to gain control of McGregor's coveted vegetable garden and the affections of the warm-hearted animal lover who lives next door (Rose Byrne) extends to the Lake District and London. James Corden voices the character of Peter with playful spirit and wild charm, with Margot Robbie, Elizabeth Debicki, and Daisy Ridley performing the voice roles of the triplets, Flopsy, Mopsy, and Cottontail.
This trailer is mostly harmless, if a bit loud. That said, there is a pretty funny joke at the very end that comes at the expense of the French. Francophiles be warned!
Peter Rabbit opens February 9, 2018.