What Happened Luke Skywalker Between Episodes 6 And 7 Is "Not Important" In 'Star Wars: The Last Jedi'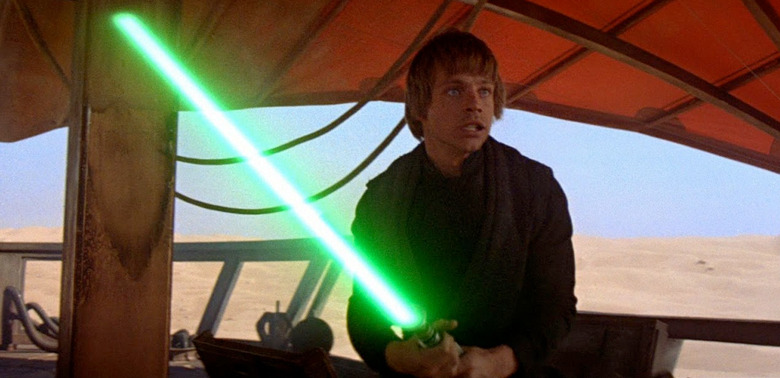 What was Luke Skywalker doing in the thirty years between Return of the Jedi and The Force Awakens? We know about a few precious fragments of what happened to him during that time, but if you're hoping for an extended exposition scene in the upcoming Star Wars: The Last Jedi in which Luke explains the past three decades to an inquisitive Rey, I'm sorry to report that you're out of luck.
In a new interview, actor Mark Hamill reveals that Luke's backstory is "not important" in The Last Jedi.
Speaking with Disney Insider, Hamill spoke about the biggest challenge he faced in returning to his iconic character all these years later:
"The biggest challenge for me was actually in the time between Return of the Jedi and Star Wars: The Force Awakens. I had to know what had happened to Luke during those years. I had to glean decades of backstory from the script. And some of it I had to make up for myself. I had to know what he went through during that time. It's not important to the storyline for this film, but I did discuss some of my thoughts with [writer/director] Rian Johnson to make sure I wasn't coming up with anything in my personal backstory that would affect Luke's portrayal in this film."
An actor coming up with his or her own backstory for a role is pretty common practice in Hollywood, but the situation is obviously slightly different here when the part in question is one of the most famous characters in science fiction history.
After his all-too-brief appearance at the end of The Force Awakens, I assumed much of the interaction between Rey and Luke would involve him filling her in about what he's been doing for all those "missing" years. And that's not the only question we won't be getting an answer to in The Last Jedi: Lucasfilm president Kathleen Kennedy tried to set fan expectations in an interview in which she says explicitly Johnson doesn't answer all of the questions we have in the upcoming sequel.
In the trailer for The Last Jedi, we see Luke climbing out of some rubble with R2-D2 nearby, and he falls to his knees as he witnesses a building burning in the background. That's likely a Jedi temple, burned at the hands of Kylo Ren and the Knights of Ren. But the reason I bring it up is the trailer is edited to make it seem as if that scene is a flashback that fills in some of Luke's backstory – albeit we had peripheral knowledge of from the previous movie. What else has he been doing for all that time? I'm sure Lucasfilm's tie-in novels and comics will fill in those missing years soon enough, but in the meantime, it sounds like The Last Jedi will still leave us with plenty of questions to ponder while we wait for J.J. Abrams to finish the trilogy with Star Wars: Episode IX.
Star Wars: The Last Jedi arrives in theaters on December 15, 2017.