'Creed 2' Is Auditioning Fighters To Play Ivan Drago's Son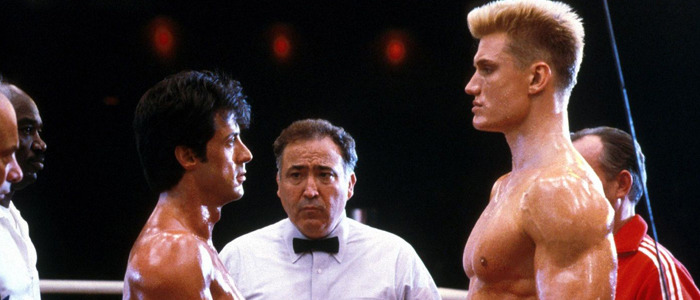 Ryan Coogler's outstanding 2015 film Creed was all about legacy: a son stepping out of his father's shadow with the help of one of his old man's best friends and most famous rival. That friend happened to be boxing legend Rocky Balboa, and since Coogler is busy with Black Panther, Rocky actor Sylvester Stallone is stepping behind the camerato direct Creed 2, which he's been heavily teasing on Instagram over the past few months.
Stallone hinted that Dolph Lundgren's Ivan Drago might return to the franchise in some capacity, and we wondered if that meant Lundgren would step back into the ring or return to train a new character. Now, a UFC fighter has revealed that he's auditioned to play Drago's son in the film, so it seems as if the sequel will continue that thematic exploration of legacy that began in Creed.
In an interview with MMAFighting.com (via Uproxx), a 21-year-old MMA fighter named Sage Northcutt explained that he put himself on film in the hopes of locking down the part of Ivan Drago's son in Creed 2:
"The new Creed 2 movie is coming out so I was actually going to audition for that. Got a little audition tape, so hopefully that goes through. That would be pretty neat. Being Ivan Drago's son in the movie? That would be pretty fun. Sylvester Stallone seems like a really cool guy, and Dolph Lundgren seems awesome. I think me and Mr. Dolph Lundgren look kind of alike."
Kid's got a point there. Here's a Photoshopped image of him:
#Repost @KamuraShops pic.twitter.com/SYhTlgSArk

— Sage Northcutt (@sagenorthcutt) October 24, 2017
But even the real version looks like a good fit for a young Drago:
Last workout before flying out to Virginia for my fight this Saturday on FS1 for the UFC pic.twitter.com/U8OPrW1nzw

— Sage Northcutt (@sagenorthcutt) November 6, 2017
It's still unclear to me whether or not the part of Drago's son is actually in the Creed 2 script. There's always the chance Northcutt sent in an audition tape based on nothing more than rumors he read online. But Lundgren is 60 years old, and seeing Ivan Drago go head-to-head against a far younger Adonis Creed (Michael B. Jordan) makes less sense than the notion of Drago training his son to fight the younger Creed.
Before Stallone took over the director's chair, there were rumors that Coogler wanted to use digital de-aging to include flashbacks to Rocky and Apollo Creed (Carl Weathers) in their prime, so if that story element makes it through pre-production, maybe Lundgren will reprise his role as a younger version of himself. Either way, Stallone is notoriously open on social media, so it shouldn't be too long before we hear more about this from the man himself.
Creed 2 hits theaters on November 21, 2018.