'Suspiria' Remake Director Reveals New Details, Promises A 'Personal' Film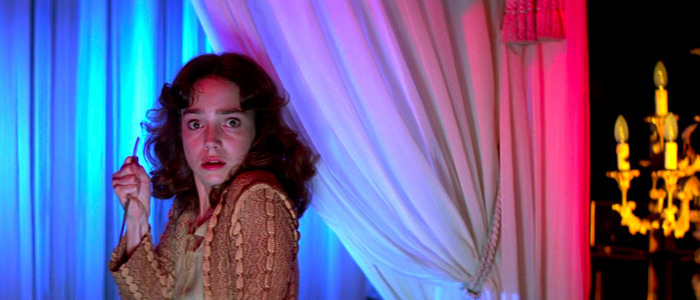 Filmmaker Luca Guadagnino has one of the best films of 2017, Call Me By Your Name, hitting theaters very soon, but he's already looking toward the future. In a new interview, Guadagnino revealed new details on his elusive Suspiria remake, starring Dakota Johnson, Chloë Grace Moretz, Mia Goth, and Tilda Swinton.
Suspiria is an immortal horror classic – a stylish, dreamy tale of terror from legendary giallo filmmaker Dario Argento. The thought of a Suspiria remake understandably causes skepticism in the minds of fans, but at least the remake is in good hands. Those hands belong to Guadagnino, the filmmaker behind sun-dappled dramas like A Bigger Splash and the upcoming Call Me By Your Name. Guadagnino may not be the obvious choice for a Suspiria remake, but he's a filmmaker who understands how to exploit style to its fullest effect, and that's exactly what a new take on Suspiria needs.
We've had only a smattering of details revealed about Guadagnino's remake. We know the cast: Dakota Johnson, Chloë Grace Moretz, Mia Goth, Tilda Swinton and original Suspiria star Jessica Harper. We know that Radiohead's Thom Yorke will be handling the score, which is a mighty big task to take on considering the original film's score by Goblin is heralded as one of the best horror movie soundtracks of all time. We also know, per an Allocine interview with Tilda Swinton (via Film School Rejects), that the film is going to be "completely different" than Argento's:
"It's impossible to remake [Dario Argento's] film. But if I accepted, it's because it will be a completely different movie! It's inspired by the same story, but it goes in different directions, it explores other reasons. It's semantics, of course, but I think people really have to understand that this is not a remake, because the word "remake" gives the impression that we want to erase the original, and the opposite is what we try to do."
The original film focused on a dancer (Harper) who discovers her prestigious European dance academy is a home to witches. If Swinton is saying the new film is "completely different," however, that suggests the remake doesn't follow this same plot line. Now, Guadagnino himself has revealed even more details about the remake in an interview with Criterion. Guadagnino reveals the film isn't quite finished yet, but that he's immensely proud of how it's turning out:
"I have three months until I finish it. It's a very special film, and I'm proud of it. I wonder all the time how people will react to it, being that it is based on a masterpiece. I often find myself in the position of saying "Oh, it's ridiculous!" when I hear stories that they want to remake a movie like 8½, so I don't know if I'm going to be served the same dish. But I can say that my Suspiria is a very personal film; it's like oxygen to me. When I saw the original movie thirty-two years ago, the emotion I felt was so strong, so mind-blowing, and so important to my upbringing. I wanted to investigate the experience I had watching that film."
Hopefully we'll be getting a trailer for Guadagnino's reimagining soon, as I'm personally dying to see what this film looks like. I really believe Guadagnino's hypnotic style is going to pair masterfully with a horror movie.
Suspiria is expected to open sometime in 2018. Guadagnino's Call Me By Your Name opens November 24, 2017.