'Tales Of Arcadia' Trilogy Announced By Guillermo Del Toro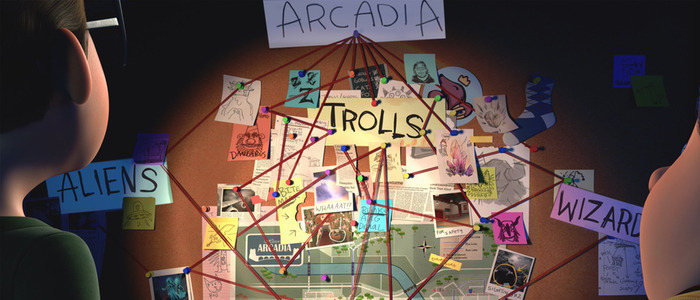 Guillermo del Toro is expanding his Trollhunters universe. At a preview screening of Trollhunters Part 2, the second season of del Toro's animated Netflix series, the Hellboy filmmaker revealed that Trollhunters is the first in a trilogy of fantastical shows that will be set within the Trollhunters universe. The Tales of Arcadia trilogy will continue on into 2018 and 2019.
Is there any modern day filmmaker as inventive as Guillermo del Toro? Perhaps, but it's hard to deny that del Toro is at least near the top of the list; a filmmaker who creates wondrous, wild worlds that spark the imagination and inspire as much as they entertain. The Crimson Peak director is perpetually busy, announcing projects left and right. He even has a new film coming out this year, the magnificent The Shape of Water. And while the prolific director plans to take a year off from filmmaking soon, he has no plans of slowing down his involvement in other projects.
Case in point: during a screening of  DreamWorks Trollhunters Part 2, del Toro announced that Trollhunters would be the first in a trilogy all set in the fictional town of Arcadia, where Trollhunters takes place. Arcadia looks like an ordinary town, but it exists at the center of magical and mystical lines that make it a hot spot for fantastical creatures like trolls, aliens and wizards. After Trollhunters, the Tales of Arcadia trilogy will continue with 3 Below in 2018 and Wizards in 2019.
3 Below (no relation to Eight Below, the movie starring Paul Walker and some dogs) will focus on two royal teenage aliens and their bodyguard who flee a surprise takeover of their home planet by an evil dictator and crash land in Arcadia. Now on the run from intergalactic bounty hunters, they struggle to blend in and adapt to the bizarre world of high school all the while attempting to repair their ship so they can return and defend their home planet.Wizards will then bring together the worlds of trolls, aliens and wizards who are all hiding out in Arcadia. This final chapter of the Tales of Arcadia Trilogy will involve an apocalyptic battle for the control of magic – a battle that will determine the fate of the various supernatural worlds established throughout the trilogy.Trollhunters Part 2, the second season of the hit animated Netflix show starring Anton Yelchin, Kelsey Grammer, Ron Perlman, Steven Yeun, Anjelica Huston, Mark Hamill, and Lena Headey, will debut on Netflix December 15, 2017.