'Westworld' Season 2 Premiering Early Next Year, Says Evan Rachel Wood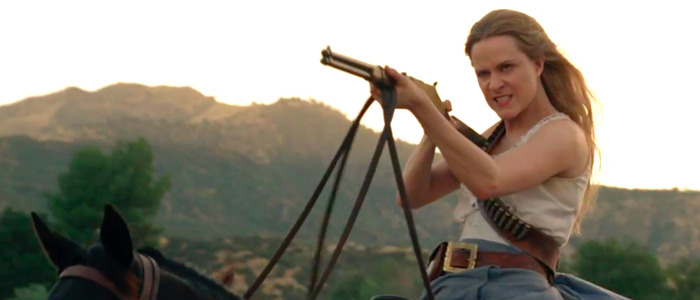 Other than a brief teaser, we've had very little word on the second season of HBO's hit sci-fi drama Westworld. While details of the highly-anticipated new season are still being kept under lock and key, we at least now know when we'll be seeing Westworld season 2, thanks to star Evan Rachel Wood. Wood confirmed the Westworld season 2 premiere time on her Twitter account.
When a Westworld fan pleaded with actress Evan Rachel Wood for information regarding a Westworld season 2 date, Wood was kind enough to oblige with the following tweet:
While this isn't exactly definitive – we don't have an final date yet, for instance – it still gives us an idea of when to expect the new season. It also shows a change of pace for the HBO series – Westworld season 1 premiered in the fall, on October 2, 2016.
Westworld season 1 focused on a futuristic theme park where highly-evolved androids began to revolt against their human creators. Much mystery and bloodshed followed. In addition to Wood, the cast includes Thandie Newton, Jeffrey Wright, James Marsden, Tessa Thompson, Clifton Collins Jr., Jimmy Simpson, Anthony Hopkins and Ed Harris. Regarding the long delay between 2016's season 1 and 2018's season 2, show co-creator Jonathan Nolan told THR:
"We said to the network very early that this was a different kind of show, having gone through the experience of making the pilot. Game of Thrones is incredibly ambitious, and that was part of the reason we knew we wanted to make this show with HBO. Game of Thrones kind of has written the book on production value for television, and how to make something that has all the scope and scale of cinema for a TV show...But we knew for ourselves that going forward, the production is enormously challenging and ambitious, and so is the writing. So we said very early on that we wouldn't be able to turn this around every year, and knowing full well that that's been a time-honored tradition in television."
Nolan also said that future seasons of the show would go well beyond just the Western setting established in season 1: "This park contains multitudes. We hope to explore that in the seasons going forward."
While you wait for more Westworld season 2 news, feel free to watch the teaser trailer for the new season below.