'Nightwing' Casting: 'Stranger Things 2' Actor Hints At Possible Involvement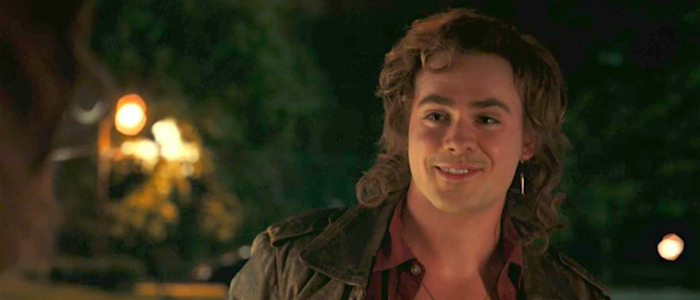 Nightwing, former Batman sidekick turned solo superhero, is getting his own movie, and a Stranger Things 2 actor may have just revealed his possible involvement. Or maybe not! Take this with a grain of salt for the moment, but Stranger Things 2 and Power Rangers actor Dacre Montgomery dropped a not-so-subtle hint on his Twitter teasing his potential Nightwing casting, only to quickly delete it. But nothing is ever truly deleted from the internet, and that's how rumors are born, folks.
With Justice League set to hit theaters next week (wow, really?), it's time to look ahead to future DC films. Take Nightwing, for example. The LEGO Movie director Chris McKay is poised to direct a big screen take on the former-Bat-sidekick turned solo hero. Nightwing is Dick Grayson, the original Robin, young sidekick to Batman. In the comics, Grayson eventually decided to strike out on his own and became Nightwing. He's like Batman but he smiles a lot more.
There's been very little movement on the solo Nightwing film since the announcement earlier this year, but we might now have some news on potential casting. Dacre Montgomery, who played the incredibly angry Billy on Stranger Things 2, and also the Red Ranger in 2017's Power Ranger, took to his Twitter account and posted an image of Nightwing, only to delete it moments later (screen shot via Geek Tyrant):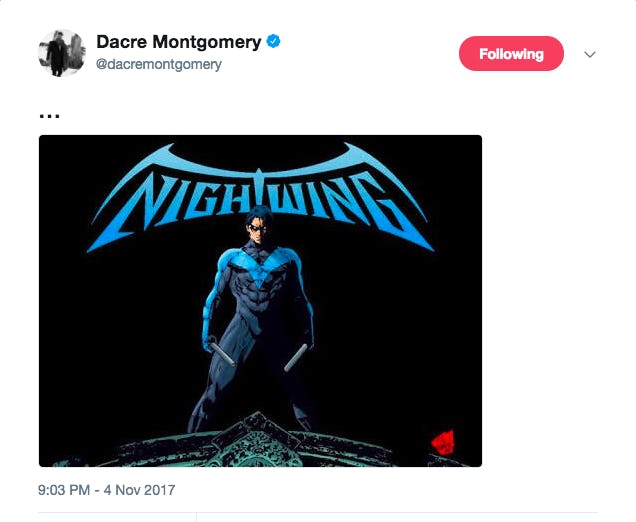 This could mean many things. It could mean that Montgomery is very interested in landing the role, and tweeted this image to drum up excitement. It could be that he recently auditioned for the part, prematurely tweeted this image, then quickly deleted it when he realized it was way too soon to start talking about casting. Or he could just be having a bit of fun on good old twitter dot com, home of funny memes and depressing political news. Anything is possible!
While the solo Nightwing movie is expected to be part of the DCEU, just where it fits on the convoluted DCEU timeline is anyone's guess. It's already been established that multiple Robins exist in the DCEU, since we saw a glimpse of Jason Todd's Robin suit in Batman v. Superman: Dawn of Justice.
Nightwing is part of an ever-growing list of upcoming DC films, including the upcoming Aquaman from director James Wan, David F. Sandberg's Shazam, Black Adam starring Dwayne Johnson, Matt Reeves's solo Batman movie, and Patty Jenkins' Wonder Woman 2. And then there are the oddities, like a Martin Scorsese-produced Joker movie. Needless to say, there are a lot of DCEU films in our future.