Larry David's Latest 'Saturday Night Live' Was Pretty, Pretty, Pretty Okay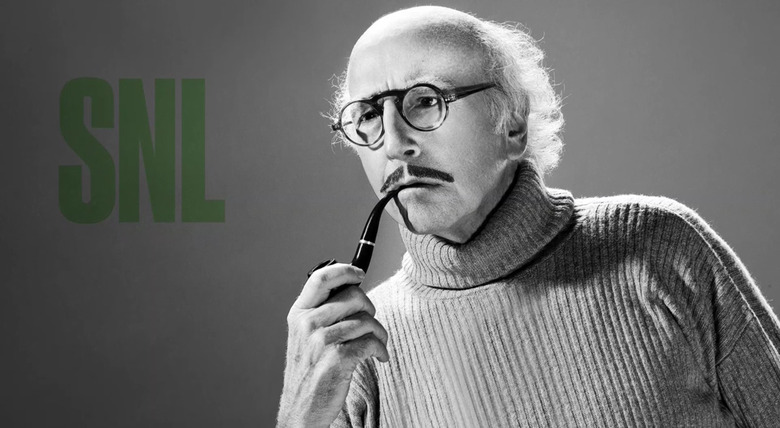 Saturday Night Live returned this weekend with the first of a back-to-back three-episode run leading up to week of Thanksgiving. To kick things off, we had Larry David returning to host for his second time at Studio 8H, but unfortunately it was nowhere near as noteworthy as his debut back in early 2016.
Larry David's return to SNL was extremely average. Even the best sketches of the night weren't particularly fantastic, but merely the best of the night. Many sketches felt like they were trying far too hard, including and especially the return of Larry David as Bernie Sanders, which was shoehorned in for no good reason.
Let's run through all of the sketches from the Larry David hosted Saturday Night Live below.
The Best
Beers – I'll never get tired of this faux sitcom-style pre-recorded sketch. The ridiculous transitions and establishing shots heighten the ridiculousness of the show, but it's the poor, unnatural acting that really sells it. Plus, the sudden outburst of Larry David throwing two chairs made this one even more funny than usual.
Career Retrospective – Jokes always come in threes, but I would have preferred to see even more of the commercials that haven't aged well. The style of 1980s PSAs was replicated so perfectly, from the acting to the editing, and even the video scan lines. Aidy Bryant reacting like Lee Trevino in Happy Gilmore was a nice touch, but I wish SNL would have really taken this sketch home by parodying a Bill Cosby Jell-O commercial.
Fresh Takes – Structuring a high school morning show like a professional news program on cable news is a great premise. While I'll admit that much of this sketch wasn't raucously hilarious (with the exception of the Magic Club and Drama Club sponsors offering big laughs), the execution was rather flawless.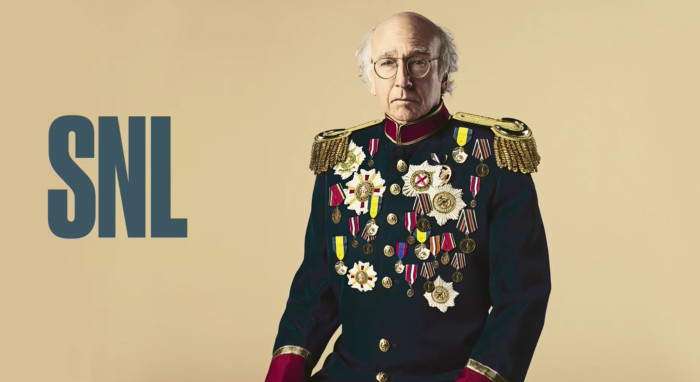 The Average
Press Conference – Aidy Bryant's impression of Sarah Huckabee Sanders is fantastic. In fact, it's almost as good as Melissa McCarthy's impression of Sean Spicer, but since Sanders doesn't have the same energy as Sanders, it's not quite as hilarious. Even so, this sketch bouncing back and forth between a music video performance of Demi Lovato's song "Confident," likely from inside Sanders' head as she spouts off garbage without hesitation, was a solid sketch, even if it wasn't necessarily laugh out loud hilarious.
The Baby Step – I have mixed feelings about this sketch. While the meta approach to the music video parody is an interesting variation on this type of pre-recorded sketch, I'm not sure it's self-aware enough to really be funny. So much effort was put into the music video portion of the sketch, it's almost like it was put together earnestly the first time, but wasn't funny enough in the end. So they added the Larry David interludes to spice it up. That could be completely wrong, but that's what it felt like.
Paul Manafort's House – Though there were some technical difficulties at the start of this sketch, it found its groove after the first couple of minutes. Once the sketch headed into the shower, it nailed some solid punchlines. But for me, the best part of this sketch was Melania Trump interacting with the Donald Trump decoy designed exactly like the inflatable autopilot from Airplane!. Honestly, I could have watched that as an entire sketch by itself.
The Worst
New Wife – While this sketch benefited from Larry David in a way, it was also hurt by his presence because it didn't feel all that dissimilar from any of the other characters he plays (which are usually some iteration of himself). This one in particular didn't feel too far removed from Kevin Roberts in the FBI Simulator sketch from the first time Larry David hosted. The only thing that made it vaguely enjoyable was Cecily Strong doing great character work and the inexplicable breaking of Larry David towards the end. But otherwise, this sketch was a dud.
The Price is Right Celebrity Edition – While it was nice to see the celebrity edition of a game show expanded to include The Price is Right, this sketch felt like it was trying to bite off more than it can chew. Not only did they throw Miley Cyrus into this sketch all for the purpose of making inside jokes about her dating Liam Hemsworth (who showed up in a cameo), but Alec Baldwin stuck around to play Tony Bennett. Plus, they shoehorned Larry David's Bernie Sanders impression, but didn't really make it worth the trouble. Lots of celebrity impressions, not enough good writing.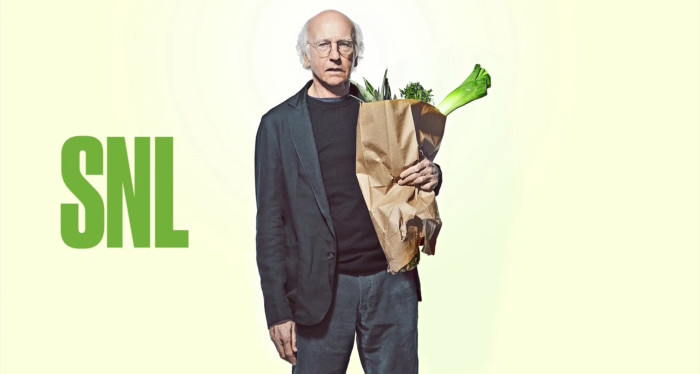 Weekend Update
Lately, even when the sketches of Saturday Night Live fall flat, Weekend Update has stayed strong. As Alec Baldwin's Donald Trump doesn't pack quite the same punch as it used to, the Weekend Update desk has become the best place to take digs at this circus of a presidential administration. Michael Che and Colin Jost are in a good groove this season, and hopefully they can keep it up throughout the rest of the year.
Eric and Donald Trump Jr. on Paul Manafort – This might be my favorite new recurring duo on Weekend Update. The way Alex Moffat plays Eric Trump like a clueless but smarmy little brother is hilarious, and the way Mikey Day talks down to him like a concerned but kind older brother is parody at its finest. The look on Moffat's face when he discovers the right way to eat Fun Dip is fantastic.
Angel, Every Boxer's Girlfriend from Every Movie About Boxing Ever – I'm not sure Weekend Update is the best place for this character, but Heidi Gardner is great in this role. The increasing level of drama and sadness from this character is amusing, but I can't imagine this will be a recurring character since it's mostly a one-note joke. That's how most Weekend Update characters work, but this one doesn't feel like it will have legs.
Leslie Jones on Baseball – It may not be as fun as Bill Murray celebrating the Chicago Cubs' World Series victory, but having Leslie Jones fawn over the Houston Astros was still pretty fun. Her energy and flirtatious nature is always perfect for moments like this and the way she yells at Colin Jost is always funny.
The Host
While Larry David is a comedy legend, that doesn't preclude him from missteps. And when it came to his stand-up monologue, it felt like he was trying out new material instead of telling polished joked. I don't know how often (if at all) Larry David gets in front of an audience to do stand-up, but he could probably use some time testing out jokes before doing them in front of millions on live television. While he proposed amusing premises, none of the jokes felt fleshed out. This was an open mic set of jokes at best. Even Larry David seemed to catch on to this when he seemingly sarcastically saying, "I think I'm doing quite well."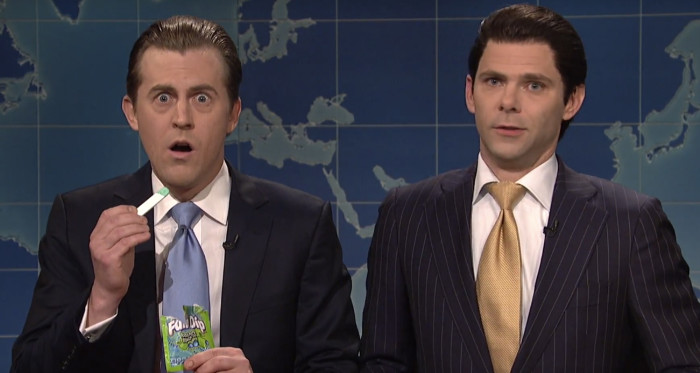 The MVP
Mikey Day & Alex Moffat – Since this was a thoroughly average episode of Saturday Night Live, there wasn't much to celebrate, and that didn't make it easy to pick an MVP. But since the best laughs of the night came from Eric Trump and Donald Trump Jr.'s appearance on Weekend Update, these two get the honor. Following closely behind is Cecily Strong, who continues to deliver some fine characters and commendable straight-man work, even though she wasn't in a lot of the better sketches of the night.
The Final Word
This wasn't the best way to kick off a new batch of Saturday Night Live episodes, but that's just the way things go sometimes. Not even Larry David's trademark personality made this episode any better. In fact, it might have even hindered the episode from being better. David might be a brilliant comedian, but his range is limited. Even so, the writers didn't seem up to the task of delivering their best material this week, even if the performers did a solid job trying to make it work.
Next week we'll have fresh blood on stage with Tiffany Haddish (Girls Trip) hosting, as well as Taylor Swift as musical guest, so hopefully that episode will be a little more fun and varied. We'll have a full review after the episode airs on November 11th.