'Justice League' Clips: Heroes Unite, Steppenwolf Attacks, Superman Is Still Gone & More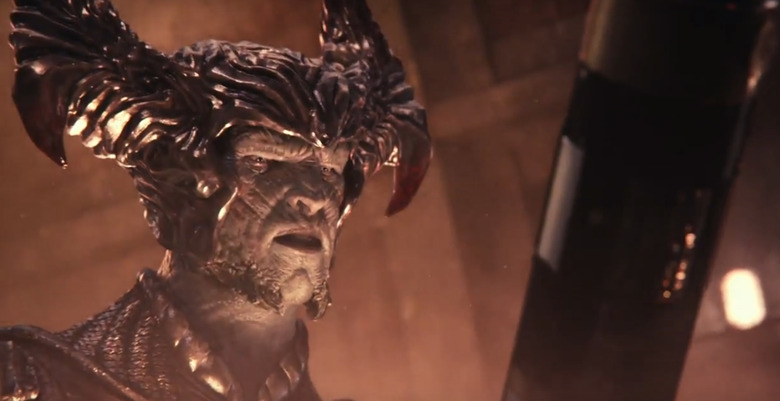 This weekend belongs to Disney and Marvel Studios with their latest sequel Thor: Ragnarok dominating the box office. But in less than two weeks, it will be Warner Bros. Pictures and DC Entertainment taking the lead with Justice League charging into theaters with the first assembly ever of the DC Comics superheroes on the big screen.
Adding fuel to the hype machine, a new batch of Justice League clips have arrived online featuring Bruce Wayne (Ben Affleck) meeting both Arthur Curry (Jason Momoa) and Barry Allen (Ezra Miller), better known as Aquaman and The Flash respectively. We also get to see Wonder Woman (Gal Gadot) kicking some ass and Cyborg (Ray Fisher) joining up with the rest of the superhero team and delivering some exposition. Plus, we get our best glimpse at Steppenwolf (Ciaran Hinds) yet as he creates some trouble for the Justice League.
Watch the Justice League Clips
Wonder Woman isn't putting up with any criminals trying to blow stuff up. And she certainly doesn't like it when she gets hit in the head with the butt of a rifle. Why these particular criminals are dressed almost like gangsters from the 1920s, I'm not entirely sure, but it does lend sort of a classic feel to the comic book proceedings.
The clip has clearly been shortened from its final cut in the movie, likely to keep the scene more easily consumable for general audiences. But it still gives us an idea of Aquaman's commanding presence, even when he's outside of his element. Thanks to the trailers, we know that this conflict between The Dark Knight and the Atlantean warrior is only temporary. It won't be long before Aquaman is hitching a ride on the Batmobile.
Featuring another extended version of the footage we've seen in Justice League trailers, Bruce Wayne meets Barry Allen for the first time. Not only does Bruce reveal that he's Batman, but he also forces Baryto reveal his super speed powers. I still like the immediate gung ho attitude that Barry has about joining the team, even it's a bit silly.
Bruce Wayne has clearly learned a lesson or two about himself and about humanity since the events of Batman v Superman: Dawn of Justice. Not only does he know that Superman would make a better team leader, but he also realizes that Clark Kent was more human than Bruce Wayne has ever been.
We get to see all our superheroes together with Commissioner Gordon (J.K. Simmons) in this clip, including the arrival of Cyborg, who apparently joins them at the behest of Wonder Woman. They have a conversation about the parademons seeking out the Mother Boxes, but they don't seem entirely sure why just yet.
The Flash feels rather out of his element when the action heats up, so Batman has to give him a little pep talk in order to stop him from being scared. He's clearly the Spider-Man of this team of superheroes, and Bruce Wayne makes for a decent mentor to begin his superhero career.
Finally, we get to see the villain Steppenwolf taking on our superhero team. He's clearly not messing around, and he's not intimidated by any of the weapons in Batman's arsenal. In this clip, he dispatches with a missile rather easily, forcing Aquaman to show off his water manipulating abilities.
Thanks to ComicBook.com for providing all of these clips online. If you're looking to see more from Justice League, you might want to take a glance at a collection of some B-roll footage from the set of the film. However, beware that you might catch a glimpse of some scenes that give more away than the trailers and TV spots have up to this point. So if you have any aversion to spoilers whatsoever, you might not want to watch.
Fueled by his restored faith in humanity and inspired by Superman's selfless act, Bruce Wayne enlists newfound ally Diana Prince to face an even greater threat. Together, Batman and Wonder Woman work quickly to recruit a team to stand against this newly awakened enemy. Despite the formation of an unprecedented league of heroes — Batman, Wonder Woman, Aquaman, Cyborg and the Flash — it may be too late to save the planet from an assault of catastrophic proportions.
Justice League arrives in theaters on November 17, 2017.