Disney Is Pushing 'Guardians Of The Galaxy Vol. 2' And 'Thor: Ragnarok' For Awards Consideration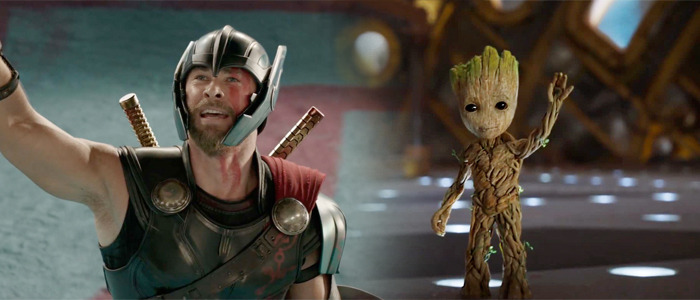 We're heading into the heart of awards season, that time of the year when studios will be releasing the movies that they hope will be nominated for plenty of awards in the coming months. Some will begin with a limited release before rolling out wide in the future, while others have already begun their limited release and are rolling out to more cities in the coming weeks. But there are some movies that were already released earlier this year and it's time for studios to remind voters about in order to be considered for nominations.
Looking to compete against some of the more prestigious pictures that usually end up in the awards conversation, Disney and Marvel Studios are making a push for both Guardians of the Galaxy Vol. 2 and Thor: Ragnarok awards nominations, and it's not just in the technical categories like visual effects and make-up.
Disney already has their "For Your Consideration" page set up with the six movies that they hope will be nominated for some awards this season. It comes as no surprise that they're pushing for their animated features Cars 3 and Coco to get some love, as well as their animated short Lou. Even Beauty and the Beast isn't an unlikely candidate since Disney's original adaptation that inspired it was the first animated film to be nominated for Best Picture, as this was long before the Best Animated Feature category was created.
But it's somewhat surprising that Disney is entering Guardians of the Galaxy Vol. 2 and Thor: Ragnarok into a variety of awards races, including Best Picture. Here's the full slate of wards Disney hopes Guardians of the Galaxy Vol. 2 will get nominated for: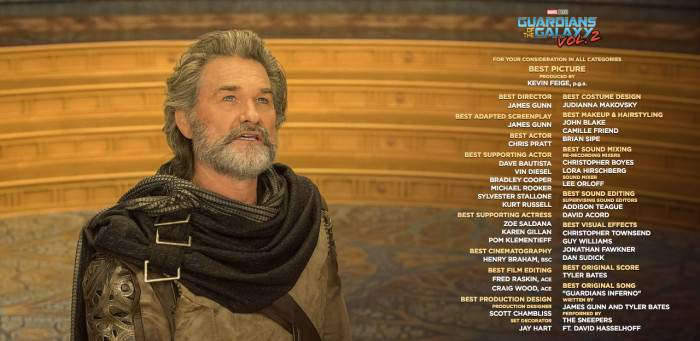 And here's the full line-up of wards Disney hopes Thor: Ragnarok will get nominated for: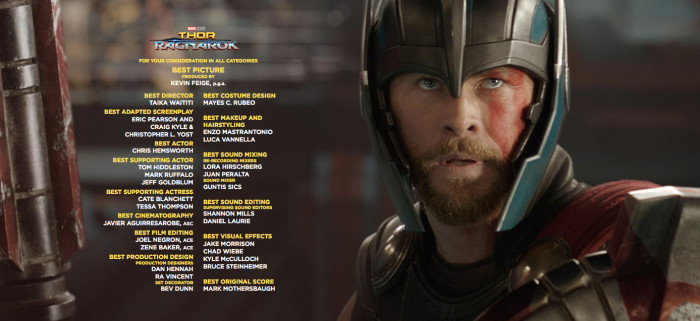 As you can see, Disney is making a push in all the categories that each movie qualifies for. Both of the sequels are nominated in 15 categories, including Best Director and Best Adapted Screenplay, but Guardians of the Galaxy Vol. 2 has one extra nomination, because Disney hopes their disco-inspired "Guardians Inferno" track from the film's soundtrack will get nominated for Best Original Song.
The technical awards aren't out of reach for these blockbuster sequels, but the nominations for more major awards such as Best Picture, Best Director Best Adapted Screenplay and all of the acting awards don't seem likely to come to fruition. The Academy of Motion Picture Arts and Sciences doesn't typically go for blockbusters at the Oscars, and most of the various guilds and other prestigious awards usually follow suit.
In recent years since superhero movies became more abundant, The Dark Knight was the only movie that felt like it could come close to a Best Picture nomination, but it didn't happen. As much as I love both Guardians of the Galaxy Vol. 2 and Thor: Ragnarok, neither film quite measures up to The Dark Knight in terms of what the Academy is looking for in movies it hands out statues too.
Having said that, there are a couple acting nominations that don't seem out of the question. Jeff Goldblum could get a dark horse Best Supporting Actor nomination for his wild turn as The Grandmaster in Thor: Ragnarok, and it would be rather astounding and deserved for Michael Rooker to land a nomination for his key performance as Yondu in Guardians of the Galaxy Vol. 2. But it's early in awards season, so we'll have to sit back and see how things play out for the time being.
Would you like to see either of these movies get awards nominations?