'Thor: Ragnarok 4D': Watch The Cast Act Out The Movie Live
Thor: Ragnarok is now playing in theaters everywhere. It's fun! And the main source of all that fun is the incredibly likable, charismatic cast that director Taika Waititi has assembled for the film. At a recent screening of  Thor: Ragnarok, the cast got together to act out the movie, live for a goofy presentation called Thor Ragnarok 4D! It looks like it was very entertaining, even though it includes a heavy dose of James Corden.
One lucky audience got the opportunity to hang out with the Thor: Ragnarok cast in person as the actors came together to re-enact scenes from the latest Marvel film, live. Of course, there was a catch: grating imp-man James Corden was involved. Corden actually assembled the cast for this re-enactment as a bit on his show, The Late Late Show with James Corden. As a result, Corden got to narrate the re-enactment, and he's featured heavily in the video below.
If you can overlook his nonsense, you'll be treated to a very funny clip that brings together Chris Hemsworth, Tom Hiddleston, Cate Blanchett, Jeff Goldblum, Tessa Thompson, and Mark Ruffalo. The cast throws on make-shift costumes and askew wigs to recreate some key moments from the latest Thor sequel, and the results are charming. I suppose it's worth mentioning that since some moments in the video are recreating scenes from the film, they might constitute spoilers for those of you who take spoilers very seriously. Be warned!
Thor: Ragnarok 4D
This all went down at a "screening" of the film at the Pacific Theatres at the Grove in Los Angeles. The audience had assembled assuming they were going to see the film, and were instead treated to this mini-play. No word if they got to watch the actual film after all this had ended. If I had shown up for a screening and was treated to this instead, I'm honestly not sure how I'd feel. Then again, this is a once-in-a-lifetime experience, so it probably beats out seeing a movie I could see literally any other day. Overall, there's a lot of fun stuff here, but my favorite moment involves Jeff Goldblum showing up riding a Razor Scooter.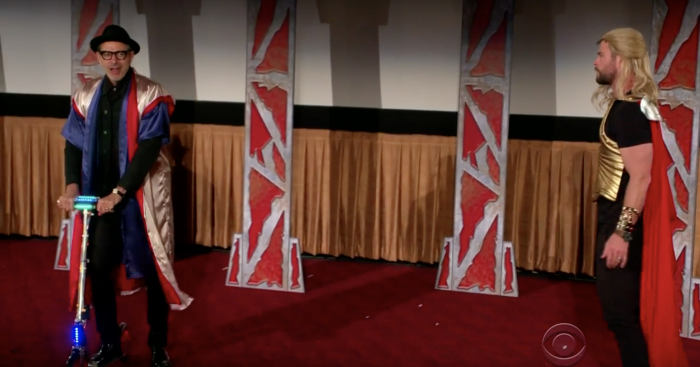 Again, this is all in good fun, and you can't beat that wonderful cast. If only it had less James Corden. Perhaps someone can make a fan-edit that somehow removes him completely? Work your magic, folks.
Thor: Ragnarok is now playing at a theater near you. Go check it out – maybe the cast will show up in person! Probably not, though. I'm sure they're all very busy.