'Coco' Clip Goes To The Land Of The Dead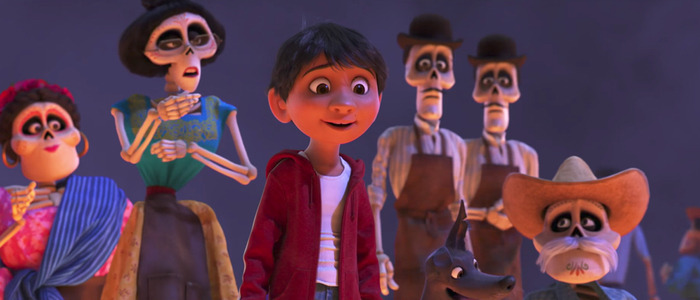 Disney and Pixar likely have another winner on their hands with Coco, their newest animated adventure which is already garnering positive reviews. A new clip from Coco gives viewers a glimpse of the eye-popping animation on display in the film. Also, there are skeletons. Watch the Coco clip below!
Disney and Pixar's Coco doesn't hit theaters until the end of the month in the U.S., but advance screenings have already revealed that the animation giants have crafted something special (check out the film's Rotten Tomatoes page here). These early reviews are due to the fact that Disney released the film in Mexico on October 27, 2017, the weekend before Día de Muertos – a holiday that plays a part in the film. A new clip from Coco arrived online this week, and while it's short on story it's big on beautiful, colorful animation. And also skeletons. In the clip, the film's hero Miguel (Anthony Gonzalez) travels to the Land of the Dead.
Coco Clip
Admit it: that looks charming as hell. Also, there's a dog, and anytime Pixar has a dog in their film it turns out really well. Remember Dug? Of course you do. Dug rules.
Here's the synopsis for Coco:
Despite his family's baffling generations-old ban on music, Miguel (voice of newcomer Anthony Gonzalez) dreams of becoming an accomplished musician like his idol, Ernesto de la Cruz (voice of Benjamin Bratt). Desperate to prove his talent, Miguel finds himself in the stunning and colorful Land of the Dead following a mysterious chain of events. Along the way, he meets charming trickster Hector (voice of Gael García Bernal), and together, they set off on an extraordinary journey to unlock the real story behind Miguel's family history.
Coco director Lee Unkrich hopes the film's storytelling is the essential key to bringing out the audience's empathy for its characters. "The best way to bring people in and have them empathize with others is through storytelling," Unkirch said in an interview with Vanity Fair. "If we can tell a good story with characters audiences can care about, I'd like to think that prejudices can fall aside and people can just experience the story and these characters for the human beings that they are." Unkrich also adds that the film is a "a love letter to Mexico."
In addition to newcomer Anthony Gonzalez, the voice cast includes Gael García Bernal, Benjamin Bratt, Renée Victor, Ana Ofelia Murguia, Edward James Olmos, Jaime Camil, Sofía Espinosa and Cheech Marin.
Coco opens November 22, 2017.