'Counterpart' Trailer: J.K. Simmons Faces Himself In Starz's New Sci-Fi Series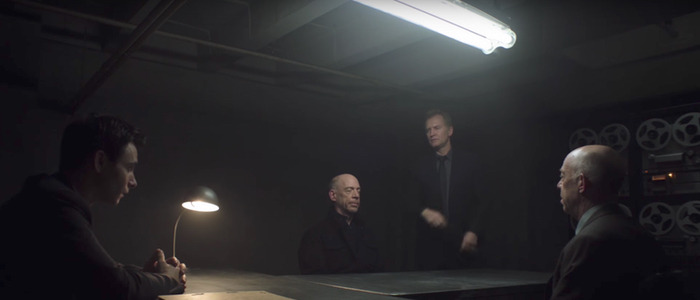 What's better than J.K. Simmons? How about another J.K. Simmons? In the wild new Starz series Counterpart, Simmons pulls double duty, playing two different characters from literally two different worlds. The new Counterpart trailer teases a show that's a blend of sci-fi and espionage, and it looks like it has the makings of something great.
In Counterpart, Simmons plays Howard Silk, a bored office drone who reports to his imposing workspace every day at a Berlin-based UN spy agency, with no real idea of what his employer does. Howard is clearly no super cool spy, but rather a man utterly bored with his existence and living his life full of regrets. Howard's seemingly mundane life comes crashing down when he learns a shocking truth: his work is guarding a parallel dimension that opens into another world that looks like ours, and contains all the same people as ours, but behaves much different. And if that wasn't weird enough, Howard comes face to face with his double from that world (also played by Simmons).
Counterpart trailer
This idea isn't entirely original, of course. It recalls Mike Cahill's 2011 indie sci-fi film Another Earth and also the 2013 film The Double from director Richard Ayoade. But Counterpart looks like it could be really cool. I almost wish there was a way to have kept the parallel dimension subplot a secret up until the show aired, because that would've been one hell of a shocking twist to discover in the first episode. But I suppose it just would've been difficult to sell the show without giving away such a major plot point.  Here's the synopsis:
An espionage, sci-fi thriller with a metaphysical twist, Counterpart tells the story of Howard Silk (Simmons), a lowly cog in a bureaucratic UN agency who is turning the last corner of a life filled with regret, when he discovers the agency he works for is guarding a secret: a crossing to a parallel dimension. Through Howard and his "counterpart" on the other side, he is thrust into a shadow world of intrigue, danger, and double cross... where the only man he can trust is his near-identical counterpart from this parallel world. The show will navigate themes of identity, idealism, what ifs, and lost love.
How Counterpart will keep up its premise over the course of its first season, and presumably beyond, will be a true test of the show's abilities. But at the very least, it'll be a great showcase for the supremely talented J.K. Simmons, who gets to play both a bit of a nebbish dweeb and his super tough, murderous doppelgänger. Simmons is joined in the cast by Olivia Williams, Harry Lloyd, Nicholas Pinnock, Nazanin Boniadi, Sara Serraiocco, and Ulrich Thomsen.
Counterpart premieres on Starz January 21, 2018.