Seth MacFarlane's 'The Orville' Renewed For A Second Season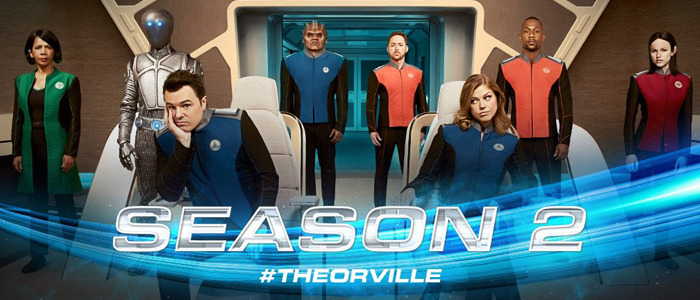 Set your phasers to stunned: Seth MacFarlane's live-action sci-fi series The Orville has been renewed for a second season.
After the first few episodes received largely negative reviews from critics, I admittedly wrote off this show as something that was sure to be cancelled after one season. But it turns out that's not the case. MacFarlane took to Twitter to announce that we are definitely going to get The Orville season 2 and to thank the fans for making it happen:
My gut reaction upon seeing this news was that Fox simply wanted to keep MacFarlane happy by giving this show a second season – after all, Family Guy has made that network some serious money, and MacFarlane has a long history there. But digging a little deeper, I was somewhat surprised to discover that The Orville has consistently performed well in the ratings, even proving itself able to withstand a shift from Sunday nights to Thursday nights on the schedule.
It started strong when 8 million people tuned into the pilot, and by the time DVR and online viewership numbers were factored in, The Orville became Fox's most-watched and highest-rated series premiere since Empire hit back in 2015. Since its debut, it's dropped down to around 3-4 million people for each episode, but that's still not too shabby for a show one critic described as "creatively, morally, and ethically bankrupt."
Early reactions dinged the show for being little more than a Star Trek rip-off, and its first few trailers seemed strategically designed to position the series as a comedy when it turns out MacFarlane is far more interested in exercising his dramatic muscles here. It seems he's also interested in shaking up the style of episodes as the season progresses. Back in August during a Television Critics Association panel promoting the series, he explained:
"One of the things I always look to as a Star Trek fan, there was an episode that was a big two part episode about the Borg. It was followed up the next week with a story about Picard going home to France to visit his brother at the winery. It was the same show and the stories couldn't be more different in tone. This is how TV should be. You should be able to write any kind of story each week and surprise your audience, but your characters remain intact and true to who they are."
Is there more to The Orville than meets the eye? Is this show actually worth watching? Let us know if you've been tuning in, and if you think the show deserves a second season.