'The Disaster Artist' Trailer: James Franco Wants You To Respect A Deranged Vision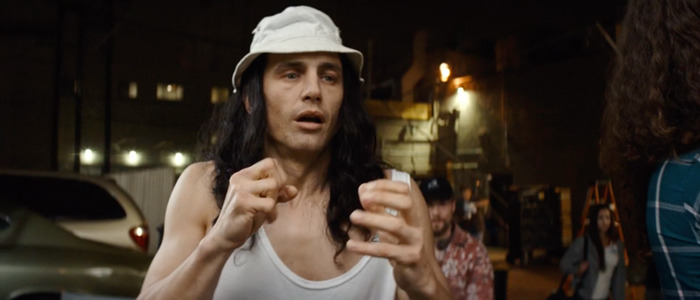 Writer, director, actor and fashion icon Tommy Wiseau unleashed The Room upon unsuspecting audiences in 2003, creating a film that would achieve cult status as one of the very best worst movies ever made. Wiseau's filmmaking skills may have been wildly inept, but he was committed to his dream. Wiseau's story, and the making of The Room, gets the biopic treatment in James Franco's The Disaster Artist, and an brand new trailer reveals an extend look at one of the year's most anticipated films.
It's wild to think of the legacy that's sprung up from Tommy Wiseau's The Room. What easily could've been a complete disaster that vanished into obscurity has been embraced by a willing public who can't get enough of how fascinatingly terrible the movie is. And now, the story of The Room has been turned into one of the best reviewed films of the year. Franco directs and stars as Wiseau, telling the story of the filmmaker's struggle to get The Room made. THR has debuted a pretty fantastic new The Disaster Artist trailer.
The Disaster Artist trailer
One of the things I love most about this trailer is how earnest it seems. It would've been very easy for Franco and company to make a film that mercilessly mocks Wiseau and his lackluster film, but instead, Franco seems to be approaching Wiseau's story the same way Tim Burton handled Ed Wood – with a modicum of respect and reverence for someone who fought hard for their dreams, even if their dreams turned out to be kind of terrible when realized. In his review from SXSW, /Film's own Jacob Hall talked about this exact element of the film:
Much like how Burton was able to look past Edward D. Wood Jr.'s technical incompetence to find imagination and soul, Franco peels back Wiseau's incompetence to dial in on the observation that The Room is clearly the work of a man putting his entire heart and soul into a film, unaware that that he is completely devoid of talent. The Disaster Artist and Ed Wood are both tributes to bootstrap filmmaking and the dreamers who toil in the low-budget trenches. Sometimes, imagination exceeds talent and the results can be magical.
In addition to Franco, The Disaster Artist has lined-up quite a cast, including Franco's brother Dave Franco, Seth Rogen, Alison Brie, Ari Graynor, Josh Hutcherson, Sharon Stone, Zac Efron, Paul Scheer, Megan Mullally, and Jacki Weaver. Here's the official synopsis:
Aspiring filmmaker Tommy Wiseau and best friend Greg Sestero move to Los Angeles to achieve Hollywood stardom. Financed with his own money, Wiseau writes, directs and stars in "The Room," a critically maligned movie that becomes a cult classic.
A24 will release The Disaster Artist in select theaters on December 1, 2017 before expanding wide on December 8.