'Star Wars' Films Being Planned For The Next 10 Years Says Kathleen Kennedy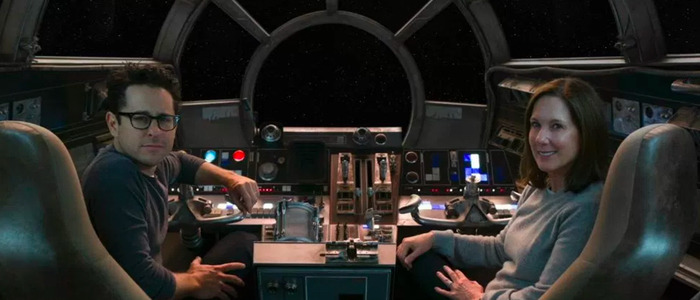 We're a little over a month away from Star Wars: The Last Jedi, episode 8 in the ever-expanding Star Wars saga. There's another core "Skywalker Saga" film planned after that, the currently untitled Episode IX. But if you thought that would be the end of the main Star Wars franchise, you're mistaken. Lucasfilm President Kathleen Kennedy recently revealed that the Star Wars franchise will continue on past Episode IX, and keep the adventures of the new characters going. There will be future Star Wars films for quite some time. In fact, Kennedy says they're "looking at the next 10 years."
Sitting down to talk with The Star Wars Show, Lucasfilm President Kathleen Kennedy spoke a bit about not just Star Wars films, but the Star Wars brand as a whole, including video games and more. But the most interesting part of Kennedy's interview is her confirmation of future Star Wars films. Here's the interview:
Kathleen Kennedy interview
Did anyone really think Star Wars: Episode IX would be the end of the Star Wars franchise? Face it: there will be Star Wars films until the end of time. Disney knows they have something beloved and brimming with possibilities and they're not going to let up anytime soon. Nor should they! And while there has yet to be any official announcement made regarding future Star Wars films beyond Episode IX, it was always a safe bet there would be more to come in a galaxy far, far away. Long after you and I are dust in the ground, my friends, Star Wars will endure.
Anyway, Kennedy describes working with The Last Jedi director Rian Johnson, saying the filmmaker has "done an exceptional job of taking these new characters and these legacy characters and moving them to the next place." Even more important: Kennedy confirms that not only will the film feature Porgs – those adorable sea bird aliens that have already taken the internet by storm – it'll also feature baby Porgs. "It doesn't get better than...a baby Porg," Kennedy says, and I can't say I disagree with her.
The conversation then turns to films beyond The Last Jedi, including the upcoming J.J. Abrams directed Episode IX. It's here where Kennedy confirms that the powers-that-be behind Star Wars are already planning future adventures. "We're looking at the next 10 years of Star Wars stories," Kennedy says. "We're looking at narratively where that might go; future stories beyond Episode IX with these new characters – Rey, Poe, Finn, BB-8. We're also looking at people who are interested in coming into the Star Wars world and taking us places we haven't been yet."
Worth noting: the fact that Kennedy lists Rey, Poe, Finn and BB-8 for the films beyond Episode IX seems to confirm those characters will make it out of the current on-going trilogy alive. Not mentioned? Adam Driver's Kylo Renn, aka Ben Solo. Better watch out, Ben.
Also worth noting: Kennedy's words align with those of Disney CEO Bob Iger, who promised 15 more years of Star Wars earlier this year. 10, 15...the point is that we're getting a lot more Star Wars for the foreseeable future and not just more anthology "stories." Kennedy's words seem to confirm that we can look forward to an Episode X and beyond at some point. After all, where else would we see the ongoing adventures of Rey, Poe, Finn and BB-8?
Star Wars: The Last Jedi opens December 15, 2017.