'Avengers: Infinity War' Is Inspired By Heist Films And Involves Thanos Stealing Infinity Stones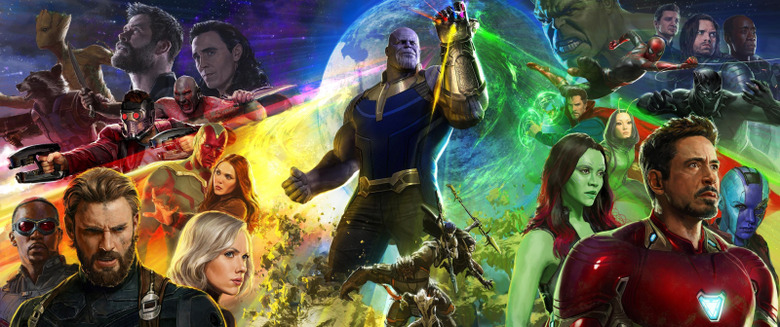 Marvel Studios' Avengers: Infinity War is one of the biggest blockbuster movies ever made in terms of sheer size. Sure, it'll quickly be topped by its own sequel in the still-untitled Avengers 4 the following year, but Infinity War is going to be even bigger than Captain America: Civil War – no small feat, considering that movie featured multi-character fight sequences that were basically huge splash panels from comic books come to life.
We know Infinity War puts the focus on the villainous Thanos (Josh Brolin), but now Anthony and Joe Russo, the directing team responsible for the new film and its sequel, have given a new interview that shines some light on what type of film genre inspired their super-powered sequel.
Speaking with CNET, Anthony Russo revealed the inspirations for their new movie:
With "Infinity War," the biggest new element to the movie is Thanos and the fact that he's entering the storytelling in a very bold, strong way, to the degree that he's almost one of the leads. We've shaped an interesting narrative around him that in some ways leans heavily on a heist film in the fact that he's going after the infinity stones in a much bolder, successful way than he has in the past. The entire movie has that energy of the bad guy being one step ahead of the heroes. We looked at a lot of movies that had that heist-style energy to them, [and] that brought some inspiration.
I think the very idea of Infinity War loomed so huge in my mind that I didn't expect it to be influenced by anything else because the notion of dealing with this many superhero characters in a single film is unprecedented. But it's cool to hear that they're looking at heist movies for inspiration (similar to Ant-Man before it), and it makes me think Thanos' journey to recover the Infinity Stones is going to take up more of the movie than I initially anticipated. We know a brawl is coming (with 30+ characters in it), but could the biggest battle in the "war" of the film's title actually be delayed until Avengers 4? They have to hold something back for the sequel, right?
Speaking of multiple characters, Joe teased a lot of surprises in that regard:
There's going to be a lot of unexpected characters. There are more surprises packed into this film than any of the others. Part of that is character interactions, new interesting characters, characters that have made small appearances that are really getting fleshed out in this film. A lot of people enjoy the experience, so I don't want to give anything away, but certainly you can expect lots of surprises.
Who do you think he could be teasing here? Maybe someone from the outer edges of the MCU, like Nova? The first real appearance of someone like Adam Warlock, perhaps? As for the smaller characters who will get further fleshed out, I feel like Benedict Wong's character from Doctor Strange, Wong, is a prime contender for that treatment. And we know Black Panther's sister Shuri, played by Letitia Wright, is on board. Who else, though? Wolverine in an alternate dimension? Probably not. But what if...?
Avengers: Infinity War blasts into theaters on May 4, 2018.