'The Assassination Of Gianni Versace: American Crime Story' Trailer Reveals January Premiere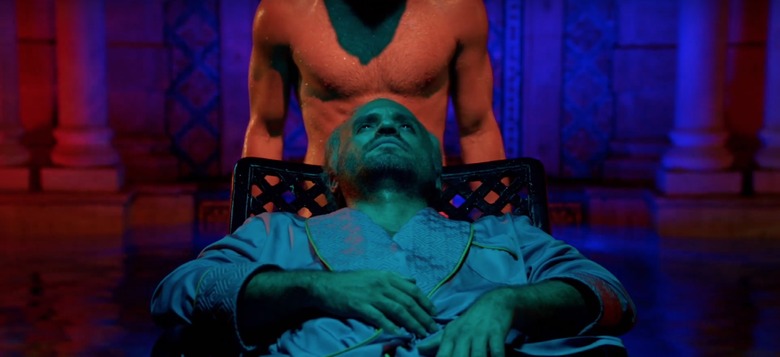 The first season of FX's American Crime Story, titled The People v. O.J. Simpson, was a revelation. A smash hit with audiences and critics, it swept the Emmys and was one of the must-see pop culture events of 2016. The second season has a lot to live up to.
The first American Crime Story season 2 trailer has arrived, offering our first look at The Assassination of Gianni Versace and revealing the show's premiere date.
The Assassination of Gianni Versace: American Crime Story will debut on FX on January 17, 2017. That information comes at the end of a brief, odd trailer that exists more as an announcement teaser than anything else. The surreal footage, which appears to have been shot for this preview and not for the show itself, finds Edgar Ramirez's Gianni Versace lying poolside while a figure emerges from the water and stands behind him. It's not much, but it certainly sells a unnerving tone.
American Crime Story Season 2 Trailer
Trivia: Gianni Versace's 54-foot-long mosaic pool was lined with 24-karat gold. So yeah, we're going to be dealing with a wealthy and opulent world in this season.
This teaser follows in the footsteps of the first season, which also debuted a simple, haunting teaser before anything else.
The title of The Assassination of Gianni Versace: American Crime Story sets up what the story is about as well as an official synopsis could. Fashion designer and wealthy fashion mogul Gianni Versace was shot outside his home on July 15, 1997 as part of a spree-killing by Andrew Cunanan. The series will track Cunanan's crimes leading up to the killing of Versace and beyond. Ramirez, a powerful actor who too often finds himself shuffled into supporting roles, plays Gianni Versace. Penelope Cruz plays his sister, Donatella Versace. Ricky Martin plays his partner, Antonio D'Amico.
The murder of Gianni Versace isn't as well known as the trial of O.J. Simpson (are any American crime stories as famous as that one?), but this is evidence that the series won't try to trot out the same bag of tricks all over again. The best thing The Assassination of Gianni Versace can do is be as different from the first season as possible and chart its own course. After all, why make an anthology series if you can't reinvent yourself with each new season?
The Assassination of Gianni Versace: American Crime Story is written by Tom Rob Smith. Series creator Ryan Murphy helmed the pilot episode. Murphy, Nina Jacobson, Brad Simpson, Alexis Martin Woodall, Tom Rob Smith, and Dan Minahan act as executive producers on the season. Missing from that line-up is Scott Alexander & Larry Karaszewski, the terrific writing team behind much of the first season. Hopefully, their absence won't be felt too much.