The Water Cooler: A Special 'Shaun Of The Dead' Screening, The World Series, And A Creepy Book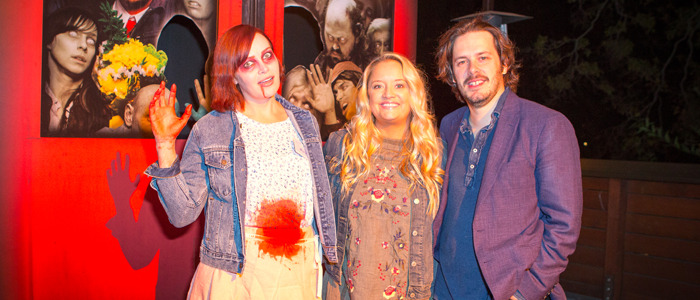 Welcome to The Water Cooler, a weekly feature where the /Film staff is free to go off-topic and talk about everything except the movies and TV shows they normally write about. In this edition: Ben Pearson attends a unique screening of Shaun of the Dead, Jacob Hall watches the World Series, Chris Evangelista reads a creepy book, and Peter Sciretta hones his sleight of hand.
Ben Pearson Attended a Special Screening of Shaun of the Dead
Last week, I went to Los Angeles' famous Greek Theater to attend "Shaun at the Greek," a special Halloween week screening of Edgar Wright's 2004 zombie comedy Shaun of the Dead on the big screen at the outdoor amphitheater. Fandango and Focus 15 teamed up to put the event together as part of the 15th anniversary of Focus Features, and they went all out: there were zombie make-up stations, there was a costume contest, and they were giving away free T-shirts to fans – the same ones Nick Frost's Ed character wears in the movie. They even hired "zombies" to stagger around, all covered in blood and grunting at the attendees. Fandango's Alicia Malone hosted the event and brought out director and co-writer Edgar Wright and actress Lucy Davis (who plays Dianne in Shaun of the Dead and also played Etta Candy in Wonder Woman earlier this year) to reminisce about the filming, and though co-writer/star Simon Pegg couldn't be there in person, he filmed a nice video greeting for the crowd that played before the film began.
I hope I don't need to tell you how excellent the film is, but my favorite part of the intro session was when Wright recalled a time during production when one of the zombie extras, an older man who was an extra in the cantina scene in the original Star Wars, walked up to Wright on the set not realizing he was the director, leaned in and said to him, "Straight to video for this one." Instead of firing the guy on the spot, Wright just said, "Yeah!" and walked away. Special thanks to the folks at Fandango and Focus for hosting such a cool event.
Jacob Hall Has Been Watching the World Series
I am not a baseball fan. My wife is not a baseball fan. But my wife's late grandmother was a huge baseball fan and her team was the Houston Astros. So out of some kind of emotional obligation, we have been watching the 'stros face off against the Los Angeles Dodgers for the past week in a World Series that has been neck-and-neck the whole time. And you know what? Doing this may have just made me a baseball fan.
I don't dislike sports – I'm just picky. When it comes to athletics, I'm the Catholic who only goes to mass on Christmas and Easter. I show up for the big games. The championships. The most dramatic stuff. The most cinematic stuff. And a showdown between two incredible baseball teams, one of whom hasn't won a world series in three decades the other who hasn't won one at all, is as cinematic as it gets. Watching these teams has been exciting on a purely dramatic level – both of them want this and both of them aren't backing down easy. This is all backed up by the extraordinary athleticism on display and how both teams have discovered a penchant for moments that would feel completely unreal if they were scripted for a movie. For me, this is the chief appeal of sports. Drama that should feel unreal coming to life because it's happening right in front of you.
As I write this, the Astros and the Dodgers are heading into game 7, tied with three victories each. No matter what happens, this has been an World Series for the ages. Or so I've been told. I'm not a baseball fan. Or maybe I am now.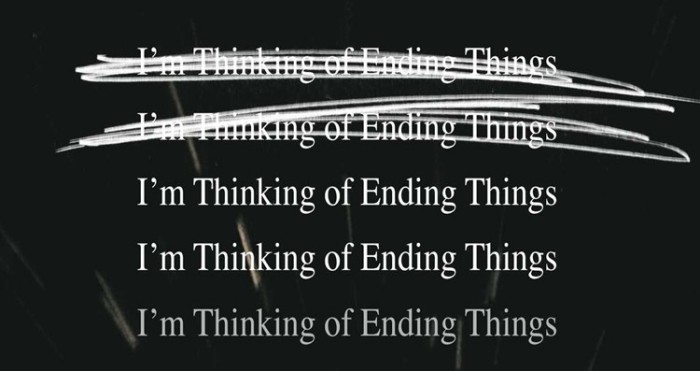 Chris Evangelista Has Been Reading I'm Thinking of Ending Things
If you're in the mood for a creepy, unnerving book (and honestly, who isn't?), I can't recommend  Iain Reid's disturbing I'm Thinking of Ending Things enough. The book follows an unreliable narrator as she heads to the country with her boyfriend to meet her boyfriend's parents for the first time. It's a simple enough set-up, but what unfolds is a pitch-perfect exercise in ever-mounting dread.
The term "Lynchian" – referencing the work of filmmaker David Lynch – gets thrown around way too much when something seems strange or otherworldly. Nine times out of ten, the term doesn't really apply. It absolutely does with I'm Thinking of Ending Things, which has the same sort of strange, ghastly, borderline manic feel that so much of Lynch's work does. Like a nightmare you can't quite get out of.
I recently devoured this book in one afternoon, reading from beginning to end in one sitting during a heavy rainstorm, and it was an absolute delight. I'm realizing now that the majority of these Water Coolers I've written so far involve me doing little more than leaving my house and reading books, but hey, to me, that's the best possible way to spend my downtime. And this book was perfect for that.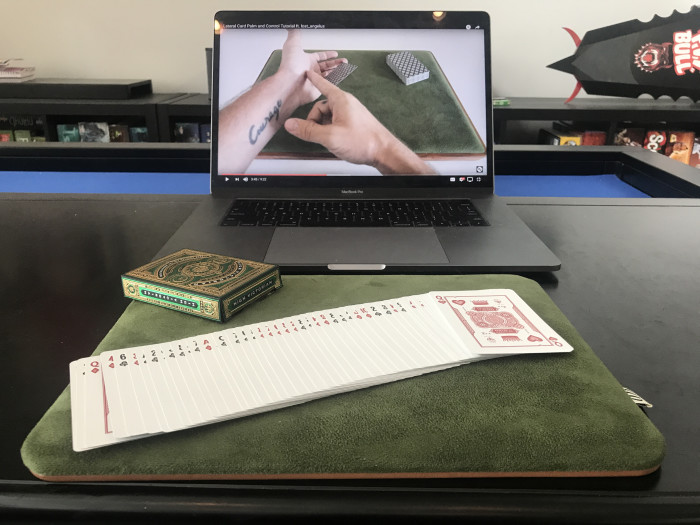 Peter Sciretta Has Been Busy Elevating His Magic by Learning Sleight Of Hand
I don't know exactly when it happened, but when I was a child practicing magic, I must have discovered that I was not able to do intermediate sleight of hand. Maybe it was that my hands were too small or maybe it was that I lacked the practice or confidence. Whatever the case, it seems I made a decision then to stick to magic tricks that were easier to pull off, like playing card tricks that relied more on presentation than skillful moves. Don't get me wrong, I think my card skills by the age of 16 were probably better than 90% of the general public, but compared to other magicians, I was the lesser 10%.
I think it was at that point that I decided not to try anything that seemed beyond my skill level. I would read tricks in magic books and when I got up to a point where it required a move that seemed difficult, I would move on to the next trick. Worse, I would buy tricks from online magic shops and sometimes find that it required some sleights that I didn't think I could do. Money wasted. I think this sadly happens to a lot of magic hobbiests.
Recently I wrote about my struggles of overcoming my fears and auditioning for the Academy of Magical Arts and becoming a member of the prestigious Magic Castle. I think that was the boost of confidence I needed. Performing for strangers has never been something that was easy for me – I grew up as a shy kid. But now that I'm a member of the Magic Castle, I've regularly performed for spectators outside of my comfort zone. It's still not easy, I sometimes shake and get nervous, but I'm getting better.
In the last months, I've been going back and re-learning some of the basics of card magic, and going back over a lot of the card sleights that I believed to be too hard. I was surprised to learn that I could handle most of the moves I was afraid to learn, and this week, I began learning some tricks incorporating those moves. Tricks that seemed too complicated on paper, maybe they involved a lot of choreography or multiple phases of a routine. I'm still learning, but I'm excited to now be performing at a higher level.
I want to thank and give a shout-out to Asad Chaudhry of 52 Cards for creating such a great resource for card magic via his youtube tutorials and paid online training academy. The tutorials are well shot and so approachable.
And an additional shoutout to Theory11, who are creating some of the best playing card decks around. The photo above features their High Victorian playing cards, which includes the most beautiful tuck case ever produced.