The First 'A Christmas Story Live' Trailer Is Ready For The Holidays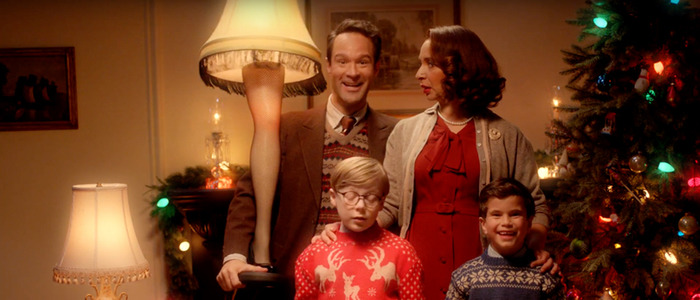 A Christmas Story LIVE!, the latest title to join the live TV musical craze, will sing and dance its way onto TV screens in December. With the cast now firmly in place, FOX just released a brief teaser to get you into the holiday spirit. There's no actual footage of the musical here (since it's supposed to be live and all), but if you want to get an idea of what to expect from the broadcast, this teaser will give you a hint.
Halloween is (sadly) over, which means it's officially the holiday season, whether you like it or not! And what better way to kick off the inevitable holidays by talking about A Christmas Story? The charming holiday classic was mostly ignored when it theaters in 1983, but a vocal cult following helped it blossom into something much more, and 24-hour broadcasts on Christmas took things to the next level.
Now, A Christmas Story is coming to TV in a whole different way as A Christmas Story LIVE!, the latest in the ever-growing trend of live TV musicals, a la Peter Pan, The Sound of Music and last year's much-buzzed-about Grease. A new teaser trailer for A Christmas Story LIVE! is here to give us all a glimpse of what's to come. Let's all watch it, shall we?
A Christmas Story Live Trailer
Again, since the show will be airing live, there's no actual footage from the performance here. Just a quick tease of the actors in character. And of course, that infamous leg lamp is there.
Based on the writings of humorist Gene Shepard, A Christmas Story focused on one comedic Christmas season during the 1940s, where the only thing a young kid named Ralphie wants is an Air Rider BB gun. The musical adaptation will, presumably, tell the same story, only updated with songs. The cast includes Matthew Broderick narrating as the older Ralphie, 11-year-old newcomer Andy Walken as the younger Ralphie, and Mya Rudolph as Ralphie's mom. Here's the official synopsis of A Christmas Story LIVE!:
From Warner Horizon Unscripted & Alternative Television, A CHRISTMAS STORY LIVE! is inspired by the holiday classic feature "A Christmas Story" and the Tony Award-nominated Broadway production "A Christmas Story: The Musical." Marc Platt ("Grease: Live," "La La Land," "Wicked") and Adam Siegel ("Grease: Live") will executive-produce, with Jonathan Tolins and Robert Cary ("Grease: Live," "Anything but Love," "Ira & Abby") serving as co-executive producers and writers. Scott Ellis (the 2016 Broadway revival of "She Loves Me," "Weeds") is an executive producer and will serve as the director overseeing the stage direction. Alex Rudzinski ("Grease: Live," "Dancing with the Stars") is an executive producer and will serve as the live television director. Benj Pasek and Justin Paul ("Dear Evan Hansen," "La La Land") who composed the original score to "A Christmas Story: The Musical," will compose several new songs for the LIVE television event airing Sunday, Dec. 17 (7:00-10:00 PM ET live/PT tape-delayed) on FOX. Two-time Tony Award winner Matthew Broderick ("How to Succeed in Business Without Really Trying," "The Producers," "Manchester by the Sea") will star as the narrator where he will play the grown-up "Ralphie Parker," who looks back with love and humor on his favorite childhood Christmas. Broderick joins previously announced Emmy Award nominee Maya Rudolph ("Saturday Night Live," "Bridesmaids") in the three-hour live musical production. After a nationwide digital casting call, 11-year-old Andy Walken, from Seattle, WA, has been cast in the role of "Ralphie Parker." Tony Award winner Jane Krakowski ("Unbreakable Kimmy Schmidt," "30 Rock") and Emmy Award nominee Chris Diamantopoulos ("Good Girls Revolt," "Silicon Valley," "Episodes") have been cast in featured roles.
There's not a whole lot to take away from this teaser, but one thing I found curious: Ralphie's dad, commonly referred to as the Old Man, played here by Chris Diamantopoulos, seems uncommonly chipper. In the original film, the Old Man, as played by Darren McGavin, was almost always incredibly grumpy, although not in a mean way – that was part of the charm of the character. Perhaps he was just too damn grumpy for FOX, and they've had him lighten up a bit.
A Christmas Story LIVE! will debut on December 17, 2017 on FOX.