'Daddy's Home 2' Trailer: A Christmas Comedy At Maximum Volume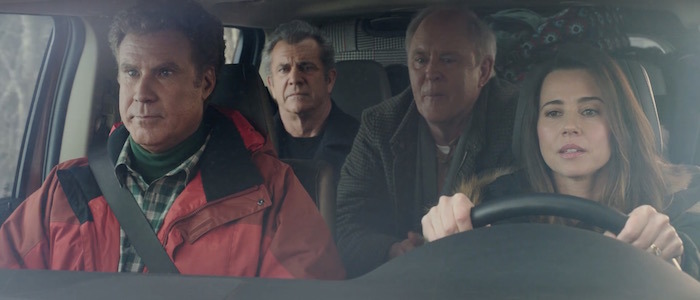 The new Daddy's Home 2 trailer makes two things immediately clear. First, this is very much a holiday movie, a comedy that leans heavily into its Christmas iconography and looks to attract families who want to sit in silence and not talk to each other for a few hours. Second, this movie looks loud. Seriously. Like Transformers loud. Everything in this trailer is pitched to 11 and I'm pretty sure it broke my old man ear drums.
Daddy's Home 2 is the sequel 2015's Daddy's Home, which followed a father and a step-father (Will Ferrell and Mark Wahlberg) competing for the affection of their children. In the follow-up, both of their fathers, played by Jon Lithgow and Mel Gibson, enter the picture. Christmas shenanigans ensue. People fall down a whole lot. Bad advice is given. More than one car is destroyed. Wolves enter the picture for some reason. John Cena is there for a moment.
Daddy's Home 2 Trailer
There's no getting around it: Daddy's Home 2 is not a movie made for me. Clearly. It's obviously aiming low and young (lower and younger than the first movie, even) and the whole experience looks like a cinematic migraine. But there's also a place for loud, somewhat obnoxious family comedies like this – I know I made my mother suffer through her fair share of lowbrow family comedies when I was a child. It makes me weirdly happy to know that this ritual lives on in 2017 as a test of how much parents love their kids. What movies will you endure to make your kids happy? Daddy's Home 2 is here to help you find out!
And while I'm not ready to watch Mel Gibson in just about anything at the moment, it's worth applauding the casting of Lithgow as Ferrell's sensitive and warm-hearted father. It's an inspired pairing and Lithgow is a naturally gifted comedian. He almost makes that pee joke work!
Daddy's Home 2 is directed by Sean Anders and opens on November 10, 2017. Here's the official synopsis:
Father and stepfather Dusty and Brad join forces to make Christmastime perfect for the children. Their newfound partnership soon gets put to the test when Dusty's old-school, macho dad and Brad's gentle father arrive to turn the holiday upside down.