Tommy Lee Jones Is Big In Japan And Boss Coffee Is His Lifeblood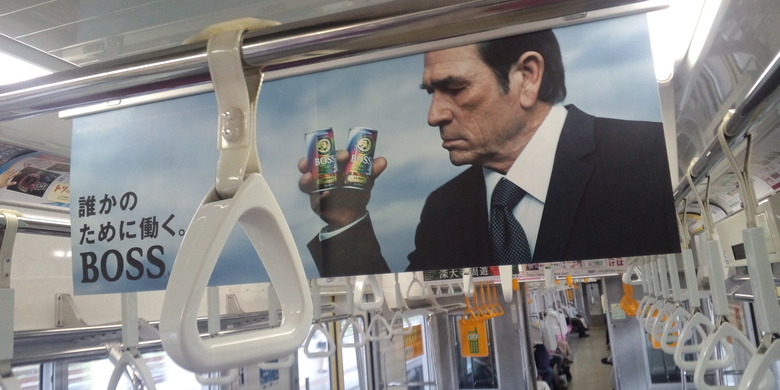 All my life, I was never a coffee-drinker. I envied the coffee-drinkers. They always seemed so bright and alert. But it was not until I came to Japan and started seeing the weather-beaten face of Tommy Lee Jones everywhere that I suddenly found myself, rather uncharacteristically, having the compulsion to drink coffee every day. Specifically: Boss Coffee.
In Japan, canned coffee is ubiquitous and there are vending machines on seemingly every street corner, so it is fairly common to see ads with Jones' face plastered across them. This is because Jones is known here for reasons having less to do with his film career and more to do with his appearance as a character called "Alien Jones" in a series of Boss Coffee commercials.
In 2011, a source in Japanese television production supplied The Hollywood Reporter with the information that the actor makes a million dollars for every six-month run of Boss Coffee ads. Talk about U.S. stars cashing in overseas. It's sort of the real-life version of Bill Murray's Lost in Translation character filming that commercial where he says, "For relaxing times, make it Suntory time."
It's worth noting that Suntory is actually the same company that produces Boss Coffee. If you have some time (Suntory time?) and an inclination toward novelty quests, you can watch a slew of Suntory's 30-second Alien Jones TV spots on YouTube, where user katz515 has assembled a playlist with English subtitles and almost 200,000 views. This playlist was created years ago and there have been many more commercials since then. A recent one can be seen below.
After watching these ads, your mind may start to feel the cumulative brainwashing effect of all that advertising take hold, and you may find yourself craving coffee, even perhaps wanting to raise a cup in a toast to "this worthless, wonderful world." It can be fun to watch the commercials in Japanese too, as the lack of subtitles only adds to their bizarre charm. One thing is for sure: you may never look at Tommy Lee Jones the same way again.
The strange case of Alien Jones opens up a broader issue about how actors choose to leverage their celebrity. As I noted in my 10-year retrospective on No Country for Old Men (his best film and maybe the best film of the new millennium to date), Jones often comes across as a stern figure in real life. At the very least, he has proven to be a prickly interview subject.
These commercials, however, show a different side of Jones, who was the guest of honor at the opening-night red carpet event for the 30th Tokyo International Film Festival, where he is currently serving as President of the Competition Jury. On November 3, Jones' old college roommate, Al Gore, will close out the festival with his documentary An Inconvenient Sequel.
Jones is not the only movie star who moonlights as a product spokesperson overseas. This year, Johnny Depp presumably helped keep the lights on at his private island by appearing in a Japanese beer commercial. George Clooney has also appeared in Japanese commercials, both before and after he was famous. It's not limited to Japan, either. Clooney has long been the brand ambassador for Nespresso in Europe; only in the last couple years has he been able to start bringing some of those commercials over to the states.
In the old days, a big-name Hollywood actor might have to worry about losing credibility by appearing in an ad on TV. In Clooney's case, the perception that he was selling out led to a feud between him and Russell Crowe, with the two actors trading barbs over the years in interviews with GQ and Esquire. As the line between the big screen and small screen has become increasingly blurred, however, it no longer feels like such an egregious shock to see stars peddling their favorite products in commercials.
No doubt greed, or a need to pay the bills (on one's private island), can be a motivating factor in some of these deals. Yet actors still have their reputation to think about, which is maybe why thespians like Al Pacino have traditionally sought refuge for their spokesmanship in countries like Australia. These foreign markets exist at a safe enough remove from the mainstream Hollywood center.
For his part, Tommy Lee Jones would probably take exception to the term "big in Japan." On stage before walking the red carpet at the Tokyo International Film Festival, Jones made some remarks about how the geological term "Pacific Rim" (which provided the title for Guillermo Del Toro's 2013 kaiju film) is apparently used as an American movie marketing term. As in: "Maybe Tokyo will open up the Pacific Rim." For him, the term seemed to be symbolic of Asia's movie marginalization. He went on to say, "You and I both know we're not standing on the rim of anything."
But even though he starred in the American-Japanese film Emperor as General Douglas MacArthur (an instrumental figure in post-WWII Japanese history), if you come to Japan and start asking around about Tommy Lee Jones (which I have done, because I am somewhat obsessed), it immediately becomes clear that he is not much of a household name. If he were, he might run the risk of being overexposed, like Pikotaro, the Japanese comedian turned viral sensation who is set to greet Donald Trump on the President's upcoming visit to Japan.
Sure, people in Japan might recognize Jones' face, just as they might recognize the face of Josh Hartnett, who co-starred in the American-Japanese film Oh Lucy! (which screened at the Cannes Film Festival this year and was recently shown on Japanese television). But there is not as much of a burden of expectation attached to that face.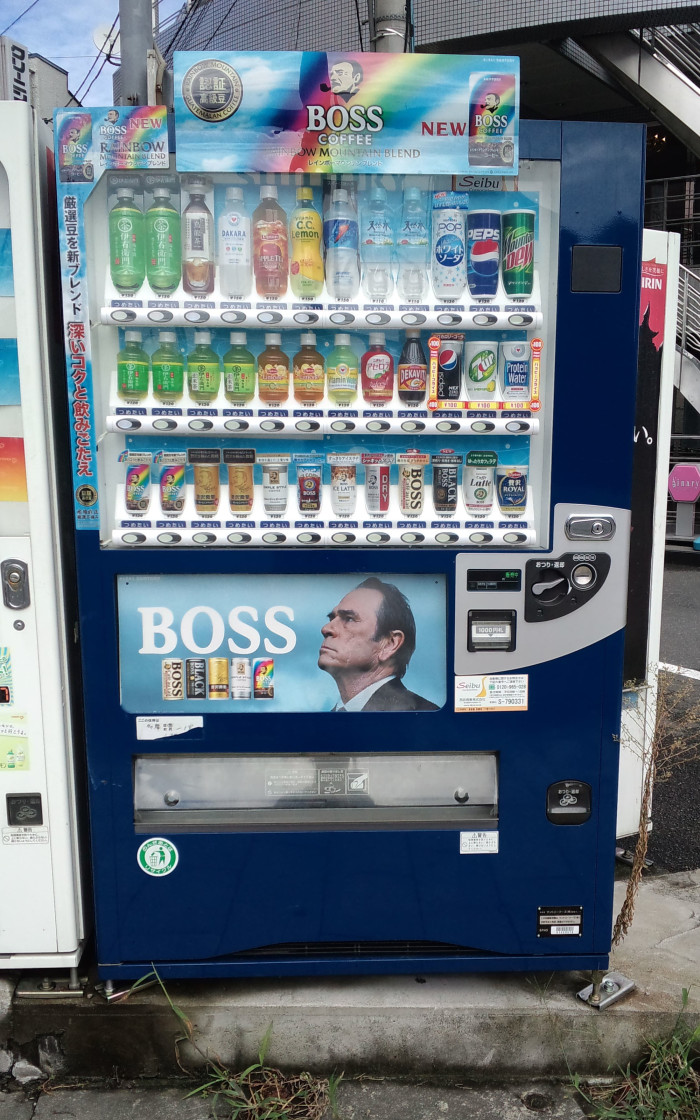 The truth of the matter is, in the Land of the Rising Sun, Tommy Lee Jones the actor does not have the same legacy of well-known films to uphold. People may have seen him in "that Harrison Ford movie" (The Fugitive) or they may have seen him and Will Smith appear on the Japanese variety show VS Arashi to promote Men in Black 3. But like Kazunori Ninomiya, the Arashi member who starred in Clint Eastwood's Letters from Iwo Jima, or Takeshi Kitano, the only Japanese actor to enjoy face time in Hollywood's live-action Ghost in the Shell remake, Jones' brand, as it were, remains undiluted by appearances on television. If anything, those appearances have only strengthened his brand (and the Boss Coffee brand), insofar as everyone seems to know and delight in the name Alien Jones.
Now, at last, some of the planet's other citizens can also know and delight in the adventures of Alien Jones, Japan's humble, hard-working coffee-drinker, on a mission to investigate Earth and understand its mystifying ways.