Steven Soderbergh Explains How The 'Ocean's' Trilogy Is His Superhero Series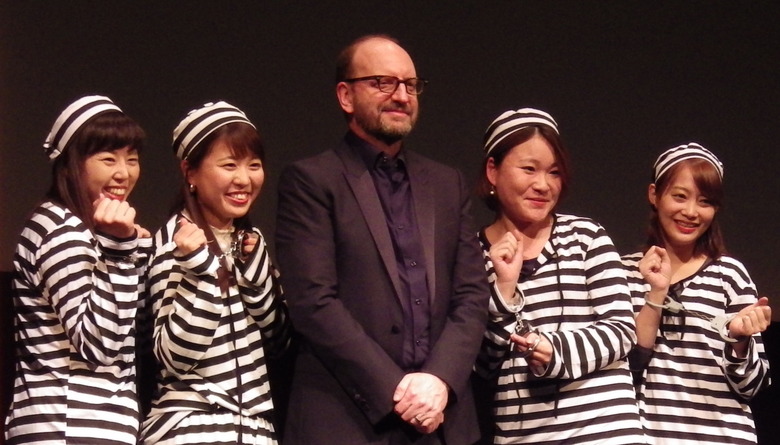 When director Steven Soderbergh returned to the big screen back in August, his "hillbilly heist" film Logan Lucky was touted as a comeback, even though he had only been in "retirement" for four years and was actually very busy during that time making Behind the Candelabra and The Knick for HBO and Cinemax. Logan Lucky may have underperformed at the domestic box office, but the movie was reportedly financed through foreign pre-sales and it is still rolling out to international territories.
On Halloween night, the film made its Japanese premiere at the Tokyo International Film Festival as part of a special program called The World of Steven Soderbergh. This program also screened other Soderbergh films like Sex, Lies, and Videotape and Ocean's Eleven. The director's appearance in stage greetings and Q&A talks during this event yielded some interesting quotes about his body of work, including his upcoming HBO mini-series, Mosaic, which first debuts November 8 as an interactive app.
And will there be a Steven Soderbergh superhero movie? Well, he says he already made one.
Soderbergh holds the high honor of being the only filmmaker nominated twice in the same year in the Best Director category at the Academy Awards. He won for Traffic and lost for Erin Brokovich. Here is what he had to say about that experience (transcription of quotes via the TIFF Japan website and this author's iPhone):
Awards are the entertainment industry version of Employee of the Month, and I think it's dangerous to ascribe too much to it. That night, I was certain I wasn't going to win, because everyone told me the two films would cancel one another out. I was totally drunk, had no speech prepared, and didn't have to campaign because I was shooting Ocean's Eleven during the campaign period. So it was a perfect experience... although I have no desire to go through it again.
Will we ever see a Steven Soderbergh superhero movie? The filmmaker explained that the Ocean's trilogy is the closest he'll come to making a superhero film:
It's the closest I'll ever come to [making] a superhero film. They're fantasy films. They provide an opportunity to play visually, which not a lot of movies allow you to do.
He spoke about the new series Mosaic, which will blend mediums by being a limited TV series and a mobile app:
I was intrigued by the idea of branching narratives, although I'm not really a gamer, and the engagement between gaming is different from watching a film. But this opportunity and the kind of technology we're developing satisfied my desire to remain in control of the storytelling, and to have the choice moments [when viewers make story choices] feel organic, rather than disruptive. It feels like a continual experience, rather than one that starts and stops. I think it's the cave painting of this new technology. It has enormous potential, and I'm anxious to see other filmmakers take it and run with it.
He also spoke about his previous visit to Japan, which was in 2011 and involved him seeing a live stage production based on one of his movies:
I was here to see Ocean's Eleven. But it was a very different type of Ocean's Eleven. I was seeing a production by the prolific all-female theater troupe Takarazuka Revue [which adapted it as a musical for its Star Troupe in 2011]. It was incredible. One of the most amazing theater experiences I've ever had.
This last quote is interesting because it was not until 2015 that reports started surfacing about an all-female Ocean's spin-off being in development. Maybe this all-female theater production was an early progenitor for the idea behind Ocean's Eight, which Soderbergh helped conceive with George Clooney and producer Jerry Weintraub.
And let's cap this off with Soderbergh speaking about striving toward an East-meets-West sensibility with his work:
I was first exposed to Japanese culture through watching Japanese cinema, and immediately, even as a young teenager, I found it very compelling. So I sought out an American author, who was well-known for his knowledge and passion for Japanese cinema, Donald Richie. And I found this quote: 'While Western plot stresses occurrence, causality, and responsibility, Japan's traditional narrative emphasizes sequential flow, connection, and association.' And what I realized was that I was interested in both of these things, and that I would spend all of my career trying to force these two attitudes to be married.
Incidentally, Soderbergh is not the only major filmmaker the late Donald Richie influenced. George Lucas also copied his 1973 story synopsis for Star Wars from a write-up in Richie's book The Films of Akira Kurosawa. If you missed it, we recently shared a rejection letter Soderbergh received from Lucasfilm in 1984. Five years later, he would win the Palme d'Or at the Cannes Film Festival with Sex, Lies, and Videotape. And the rest is history.