'Black Adam' Recruits 'Undateable' Creator Adam Sztykiel To Write The Script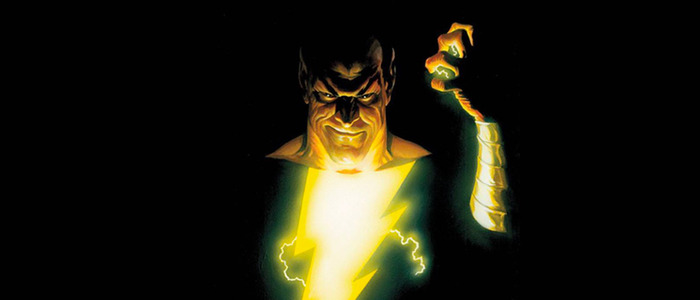 The Black Adam movie just got a new writer. Undateable creator Adam Sztykiel will pen the script for the upcoming DC film for New Line, which stars Dwayne Johnson as Shazam villain Black Adam. Whether or not Johnson's character will also be appearing in the Shazam! film remains to be seen, but for now, the Black Adam solo film is moving forward side-by-side with Shazam! 
Days after the announcement that Zachary Levi had been cast as the lead in Shazam! comes word of a new writer for Black Adam, Shazam's primary villain. Per The Tracking Board, Undateable creator and Alvin and the Chipmunks: The Road Chip writer Adam Sztykiel will script the film, which will star Dwayne Johnson as Black Adam, the super villain and sometimes anti-hero and main adversary of Shazam.
The concurrent Shazam! and Black Adam films are interesting – usually, a comic book hero and a villain don't have separate movies developed side-by-side like this. On top of that, the hiring of people who primarily have backgrounds in comedy hints at the potential tone for both films. Shazam's Levi comes from comedic shows like Chuck and Psych, and his comedy chops make sense for the lighthearted Shazam. But Black Adam is typically a darker, more serious character. Yet the hiring of Sztykiel to pen the script indicates the film could possibly be going in a funnier direction, which would also pair well with Johnson's natural comedic timing.
The lighter tone for Black Adam was hinted at earlier this year when Johnson took to Instagram to post this message:
Had a very cool and strategic meeting with the heads of DC about their entire universe. As a hard core DC fan, to get a real sense of the tonal shifts and developments coming in these future movies has me fired up. Something we, as DC fans have all been waiting for for a very long time....Hope, optimism & FUN...Even when talking about the the most ruthless villain/anti-hero of all time finally coming to life. Prepare yourselves DC Universe.
The question that remains now is whether Johnson's Black Adam will appear in the Shazam! film and wether Levi's Shazam will appear in Black Adam. One would assume the answer is yes, but again, the concept of developing a hero and villain film side-by-side like this is uncharted waters. The Black Adam film has yet to lock down a release date, but Shazam! is expected to hit theaters in 2019.