'Captain Marvel' To Begin Filming In California In February – Here's Why That Matters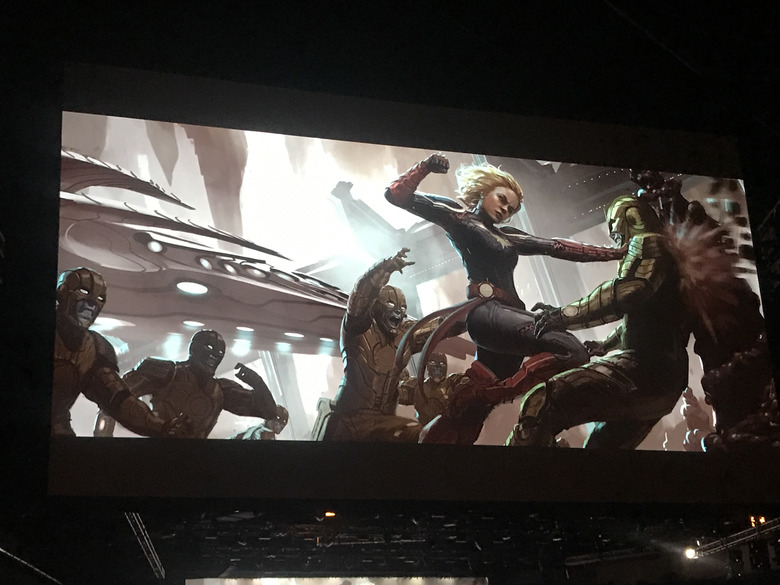 For the past few years, Marvel Studios productions have been filmed primarily on sound stages located in Atlanta or in London. But Captain Marvel, Marvel's first female-led superhero film that stars Brie Larson and is being directed by Anna Boden and Ryan Fleck, is heading back to the California, where the studio made its mark shooting films like 2008's Iron Man.
Here's why the Captain Marvel filming location matters, and what it could mean for the film itself.
California may be home to Hollywood and might conjure images of bustling film sets and glamorous premieres, but it's no longer the go-to destination for making movies like it was in the early days of film. Producers looking to maximize the bang for their buck pay close attention to state tax incentives, which is why there was a period of time not too long ago in which it felt like pretty much every movie was filming in Louisiana. Georgia has been offering attractive tax breaks for years, which is why it's become a dominant location for filming TV shows and movies, including Marvel films like Ant-Man, Guardians of the Galaxy Vol. 2, and more.
Marvel Studios used to have production space in Manhattan Beach, California, not far from Hollywood, and that's where films like Iron Man, Iron Man 2, and Captain America: The Winter Soldier shot. Some subsequent productions have filmed bits and pieces in Los Angeles – Iron Man 3 has a brief explosion sequence at what is now the TCL Chinese Theater, for example – but the majority of Marvel Studios productions have moved either to Georgia or overseas to film.
OmegaUnderground noticed a report on a site called MyEntertainmentWorld that claims Captain Marvel is returning to California to shoot in February of 2018. Here's the listing: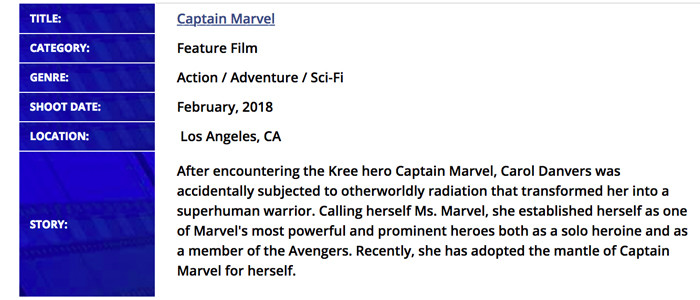 If the production is spending the majority of its shoot in California, that's a big deal. A Deadline report from this summer lamented that only three of the top-grossing movies of 2016 were shot in California using state tax incentives, and not a single production with a budget of $100 million or more decided to film here. Captain Marvel's budget will almost certainly exceed $100 million, and filming here should translate into a nice boost for the local economy. I haven't spoken with anyone working on this particular movie yet, but I have to assume the reason they're coming back is because, in 2015, California's unveiled an enhanced tax incentive that must have worked well for their budget needs. Upcoming films like Bumblebee and A Wrinkle in Time were recipients of big breaks, and Captain Marvel will receive more than $20.7 million for filming in California.
What could this mean for the Captain Marvel storyline?
The Marvel movies that previously filmed here struck a mix of actually leaning into iconic locations in the films themselves (the Santa Monica Pier, for example) and simply using sets to stand in for other locations, and it's still unclear which approach Captain Marvel will use. We know the film takes place in the 1990s and co-stars Samuel L. Jackson's Nick Fury (with both eyes intact), and it will feature the Skrulls as the villains of the story. Some major events in the Captain Marvel comics take place in Cape Canaveral, Florida – including how pilot Carol Danvers gets her powers – so perhaps the production is using the bright California locale to double for the Sunshine State? Or perhaps they're moving the base to a California location and cutting Florida out of the equation altogether. That's probably for the best – we wouldn't want any rampaging gators or crack-addled naked guys bounding into the edges of the frame for no apparent reason. (I'm from Florida, so I'm allowed to joke about it.)
Captain Marvel, which currently has Rogue One's Ben Mendelsohn in talks to play the villain, arrives in theaters on March 8, 2019, and we may see Larson suit up in Avengers 4 right after that.