'Slice' Trailer: Chance The Rapper Stars In A24's Pizza-Themed Slasher Movie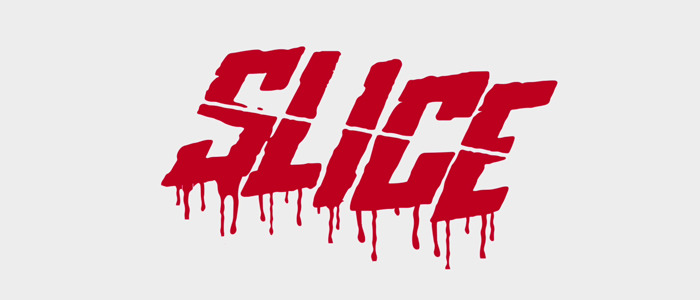 Chance the Rapper is set to host Saturday Night Live on November 18, but he'll be making his big screen debut soon after that in a new pizza-themed slasher movie called Slice. A24 is releasing the film, which also stars actress Zazie Beetz (Atlanta, Deadpool 2), Joe Keery (Stranger Things), and Paul Scheer (The League, Fresh Off the Boat), and they debuted the first Slice trailer early on this spooky Halloween morning. Check it out below.
Slice trailer
Have you ever played a game called Line Rider? My friends and I were obsessed with it about 10 years ago and I haven't thought about it since, but it's clear that someone in the A24 marketing department also has fond memories of it. In the game, you essentially build a sledding course by drawing simple lines for your player to coast on, and you can end up creating some pretty insane tracks (even incorporating loops if you're precise enough) that are limited only by your imagination...and those pesky laws of physics. You start with a blank page, and your creativity takes you the rest of the way – much like the creation of any piece of art. Like a movie, for instance. Interesting connection.
Slice. Starring Me the Actor. In theatres 2017 @A24 @AustinVesely pic.twitter.com/NaCJr30rgC

— Chance The Rapper (@chancetherapper) October 31, 2016
On Halloween last year, A24 teased a collaboration with Chance the Rapper and released the title and the premise: the film would be about a mysterious outlaw who's framed for the murders of a bunch of pizza delivery boys. The movie filmed secretly in Chicago during the summer of 2016, and now, a year later, we finally have a teaser trailer, which creatively mixes shapes that look like slices of pizza amid the Line Rider course, occasionally flashing hints of footage along the way.
Director Austin Vesely, who directed music videos for Chance the Rapper songs like "Brain Cells," "Juice," "Sunday Candy," and more, is making his feature film debut here. Back in 2015, he told the Chicago Tribune that Chance the Rapper's character would be a werewolf named Dax Lycander (ah, like lycanthropy) who's a former Chinese delivery boy that's the primary suspect in a string of murders. In another interview, Vesely said Heath Ledger's Joker from The Dark Knight and Orson Welles' Harry Lime from The Third Man were inspirations for that character:
"I don't think his actual character is similar to either the Harry Lime character or The Joker, but their use within the films was interesting to me. I wanted to make Chance's first screen appearance exciting."
Social media posts have since revealed that the movie takes place in a town called Kingfisher, and it's sort of an alternate universe world in which ghosts exist and are "part of the fabric of the government, of the town" where the characters live. I can't wait to see what this project looks like, and I'm excited that a company like A24 is getting behind what sounds like a unique passion project for everyone involved.
There's no official release date set yet for Slice. The film was originally planned to come out sometime this year, but at this point it's looking like we'll see it sometime early in 2018.