'House Of Cards' Spinoffs Being Planned At Netflix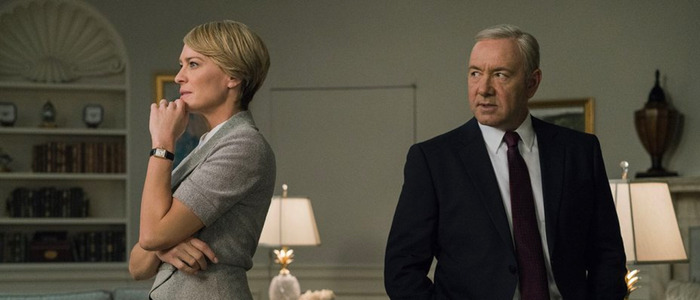 In the wake of news that the sixth season of House of Cards will be its last comes word of multiple spinoffs. Producers Netflix and Media Rights Capital are in the stages of planing several different ideas for a potential spinoff of the flagship Netflix series, which has been running since 2013. Word of the House of Cards conclusion and potential spinoffs comes on the heels of allegations leveled against star Kevin Spacey.
House of Cards was one of Netflix's very first original series, debuting in 2013 and almost instantly inspiring the concept of "binge watching," where viewers would power through the entire season over the course of one weekend. Since its premiere, Netflix has launched several high profile original series, but Cards continues to enjoy the reputation as the catalyst that started it all. 
Now, the show finds itself at a crossroads. Actor Anthony Rapp recently revealed that House of Cards star Spacey allegedly sexually propositioned him in 1986, when Rapp was only 14 years old. Spacey quickly issued a public apology in which he claimed to not remember the incident and then came out as gay. The "apology" was then universally criticized for attempting to deflect the seriousness of Rapp's claims.
Almost immediately following this news came word that Netflix would be ending House of Cards after its upcoming sixth season. Ending House of Cards after season 6 was apparently planned long before the allegations against Spacey came to light, but the news arriving immediately after Rapp's claims understandably raised an eyebrow or two.
Now Variety reports that Netflix and Media Rights Capital are exploring multiple House of Cards spinoffs, none of which will feature Spacey. The spinoffs are all set within the same House of Cards world, however, where Spacey plays corrupt politician Frank Underwood, who uses cunning manipulation (and in some cases, murder) to ascend to the presidency with the help of his wife Claire (Robin Wright). The previous season of House of Cards saw the Underwoods at odds, with Frank resigning and Claire assuming the role of president. At this point, it would almost make more sense to kill off Frank and let Claire take over the show, but Netflix seems more keen on the spinoff idea.
Variety says at least three different spinoff ideas are being tossed around, two of which currently do not have writers attached. One spinoff idea is being worked on by writer Eric Roth, and reportedly focuses on Frank Underwood's murderous Chief of Staff Doug Stamper, played by Michael Kelly.
The final season of House of Cards arrives sometime in 2018.