'Pet Sematary' Remake Back From The Dead With 'Starry Eyes' Directors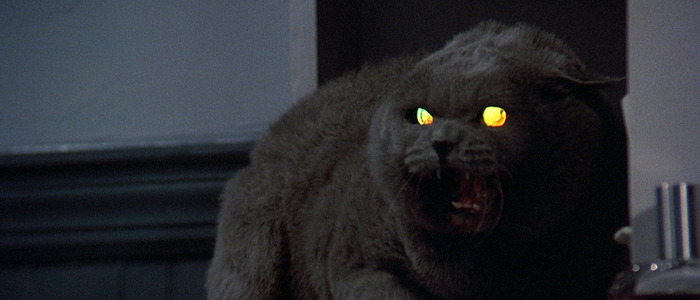 Nothing can stop the Stephen King renaissance! After It scared up boffo bucks at the box office, the rate of new King adaptations are only going to increase with the hopes of scaring up another horror blockbuster. The newest King adaptation will be a Pet Sematary remake, helmed by Kevin Kolsch and Dennis Widmyer, directors of the indie horror film Starry Eyes.
Sometimes, dead is better. But Stephen King adaptations are alive and well. There were already a wealth of potential King adaptations on the horizon, and with It becoming one of the biggest horror blockbusters of all time, don't expect that to change anytime soon. Case in point: Variety reports that Paramount is finally moving ahead with a long-gestating Pet Sematary remake, and they've hired Kevin Kolsch and Dennis Widmyer to direct.
Kolsch and Widmyer helmed the creepy, effective indie horror film Starry Eyes, which was partially funded via Kickstarter. Now they're moving up in the world, taking on a big studio horror flick based on a novel by the master of horror himself. Pet Sematary is one of King's scariest novels; the one book that even scared King himself while writing it. In the novel, Dr. Louis Creed moves wife, two children and cat to Maine, where their idyllic country house happens to border a haunted Native American burial ground. The ground has the power to resurrect the dead who are buried in it, but those who rise from the grave tend to come back evil. It sounds a bit farfetched, but King makes it work, and does so in terrifying ways, resulting in one of his bleakest novels.
Pet Sematary previously found life at Paramount with a 1989 film adaptation directed by Mary Lambert, with a screenplay by King himself. It was a solid, creepy movie, filled with nightmarish moments that still have power after all these years. Yet even though King wrote the adaptation himself, the film still excised a large chunk of material from the book. Here's hoping Kolsch and Widmyer restore it. There was also a sequel, Pet Sematary II, which should probably be avoided since it's just not very good.
There have been rumblings of a potential Pet Sematary remake for years now. Back in 2010, 1408 screenwriter Matthew Greenberg was hired to write a script for a potential remake. In 2011, High Tension director Alexander Aja was floated as a possible Pet Sematary remake helmer. 28 Weeks Later director Juan Carlos Fresnadillo was announced as a remake director in 2013, but that never came to pass. And just recently, It director Andy Muschietti expressed interest in making a new take on Pet Sematary. Added into the mix was Guillermo del Toro, who expressed interest in making a Pet Sematary film on multiple occasions.
Now the task falls to Kevin Kolsch and Dennis Widmyer, and if their Starry Eyes is any indication, we're in for a potentially great, highly disturbing new adaptation.