Cool Stuff: 'Stranger Things' Season 2 Funko POPs Include The Ghostbusting Kids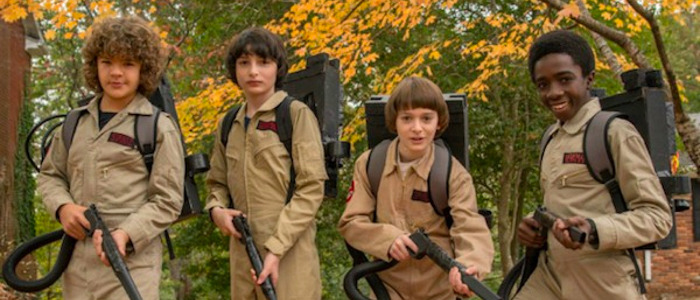 Hopefully you had some time to binge watch Stranger Things season two last weekend since everybody is having a problem waiting to talk about it online. We're doing our best to hold off on diving deep into the new episodes until more people have had a chance to watch, but in the meantime, those who have already made it through the new season may be looking to get their hands on some collectibles from the Netflix series.
Funko has already released their first POP Vinyl figures from Stranger Things season 2, including Mike, Will, Dustin and Lucas all suited up in their Halloween costumes as Ghostbusters. Plus, we get a new version of Eleven, looking like a telekinetic Ripley from Aliens. Check out all the new Stranger Things season 2 Funko POP figures below, but beware of a very minor spoiler regarding one of the new characters on the show.
As you can see, in addition to all our favorite kid characters returning from the first season, we also have a new version of Will's mother Joyce (played by Winona Ryder). She certainly looks less distraught than her first Funko POP figure, even though her son Will is still dealing with some scary business in this second season.
The best addition is easily the boys' new friend Max. The arcade-game loving import from California gets two different Funko POP figures; one features her in regular school clothing with her trusty skateboard while the other has her dressed up in her own Halloween costume as iconic slasher Michael Myers.
All of these Stranger Things season 2 Funko POP figures should be available in stores now, and there will likely be another wave coming sometime down the road too, so stay tuned.