New 'Justice League' Batman Featurette Shows The Evolution Of A New Dark Knight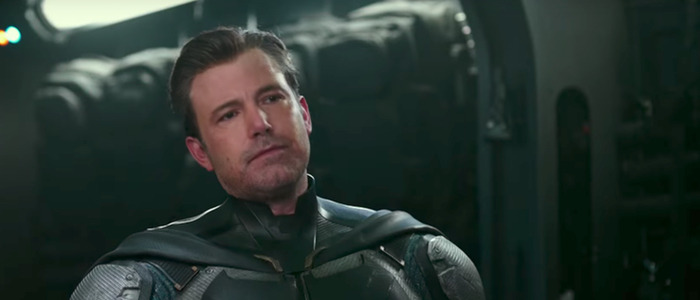 A new Justice League video takes us behind the scenes of the highly anticipated DCEU film and gives us an extended look at Ben Affleck's Batman in all his bulky glory. New footage, and scenes of Jeremy Irons' extremely droll Alfred abound!
When Ben Affleck was first announced as the new Batman, fans were less than enthusiastic. Over time, however, the DCEU fanbase has grown to embrace Affleck in the role, and now they'll get to see Affleck's take on the Caped Crusader in a whole new light in Justice League. The Batman we met in Batman v. Superman: Dawn of Justice was a brooding, even at times hateful, brute who was immediately suspicious of Superman. But Superman's death may have changed Batman forever, and in Justice League, the character is learning to work with others.
Justice League Batman featurette
AT&T is releasing exclusive first looks at Justice League and its main group of heroes. They did one for Jason Momoa's Aquaman, and now Affleck's Batman gets the same treatment. Most of the footage here is stuff we've seen in the various Justice League trailers, but there are a few new shots to keep fans satisfied until the film's release date next month. Wonder Woman star Gal Gadot weighs in and says that Batman learns that he can't save the world "by himself" in Justice League. Affleck mentions how Justice League will show the "evolution of a new Batman" – one who has "moved on from lone vigilante" and become a recruiter and leader.
Batman as recruiter and leader of the Justice League certainly is reflected in the film's official synopsis:
Fueled by his restored faith in humanity and inspired by Superman's selfless act, Bruce Wayne enlists newfound ally Diana Prince to face an even greater threat. Together, Batman and Wonder Woman work quickly to recruit a team to stand against this newly awakened enemy. Despite the formation of an unprecedented league of heroes — Batman, Wonder Woman, Aquaman, Cyborg and the Flash — it may be too late to save the planet from an assault of catastrophic proportions.
While there have been some rumblings about Affleck leaving the character of Batman behind after Justice League, Affleck is still expected to play the Dark Knight yet again in the standalone film The Batman for director Matt Reeves. At one point, Affleck was going to direct the film himself, but behind-the-scenes issues prevented that from happening.
Justice League hits theaters November 17, 2017.