Does 'Star Wars: The Last Jedi' Really Reveal Rey's Parents?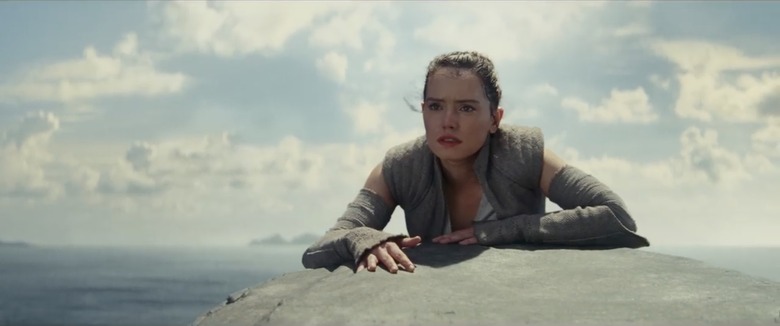 In a galaxy far, far away, one question reigns supreme for Star Wars fans: Who are Rey's parents? It was one of the biggest mysteries raised in J.J. Abrams' The Force Awakens, but will we find out the answer to the question in Rian Johnson's Star Wars: The Last Jedi this year, or will Abrams get to ask the question and answer it himself in Episode 9?
A new interview with Daisy Ridley, the actress who plays Rey, hints that the answer may be coming soon. Let's take a look at her most recent quote on the matter and see if we can glean anything about when we'll discover the truth about Rey's parentage.
Yahoo Japan published an interview with Ridley this morning, but translation issues have muddied the waters even further. Instead of just running the quote through a computer translator like Google, we had a human who actually reads Japanese translate the text for us, and this is what it says:
As for the relationship between Luke and Leia, a popular theory has come to be that the two were incestuous siblings. Daisy, who had said clarification on that theory would come in The Last Jedi, had this to say: 'Whatever the answer, I just hope that the moment everyone finds out is an enjoyable experience for viewers.' 

She continued, 'And, though I have known the answer for several years now, the series that Rian Johnson created has turned out to be spectacular beyond even my imagination. To be honest, I was very moved. I think it will be a moving moment for everyone else as well.'
Let's put aside the part about "incestuous siblings" as being lost in translation, because otherwise that indicates that there's a theory out there that Rey is Luke and Leia's daughter, which...gross. I know Game of Thrones has softened the blow of incest a little recently, but still.
Previously, writer/director Rian Johnson said that the question of Rey's parentage would "absolutely be addressed" in the upcoming sequel. But when pressed about whether or not her parents would be definitively revealed, Johnson stopped short of answering the question for fear of giving anything away.
But let's parse Ridley's response a little: "Whatever the answer," she says, meaning whether we find out who her parents are in The Last Jedi or not, she hopes that "the moment" we find out is an enjoyable experience. Reading between the lines, that "moment" may or may not actually be in The Last Jedi. As for the rest of her quote, specifically about her being "moved" after seeing the film and thinking "it will be a moving moment for everyone else as well," yes, she could be saying that this moving moment of her discovering her parentage occurs in this specific movie. On the other hand, it very well could be a bit that's lost in translation – maybe she means that the experience of watching the film will be moving for audiences. Clearly the actress knows the truth, but whether or not we find out in The Last Jedi or whether the question is simply raised again (or even explored in a deeper way) seems to still be unresolved.
And hey, this analyzation and speculation could all be for naught, because there's the chance that Ridley's co-star Adam Driver just accidentally blew the lid off the whole thing by slipping up in a recent interview. Find out what he said right here and judge for yourselves.
Star Wars: The Last Jedi arrives in theaters on December 15, 2017.