Kevin Spacey Suspended From 'House Of Cards' [Updated]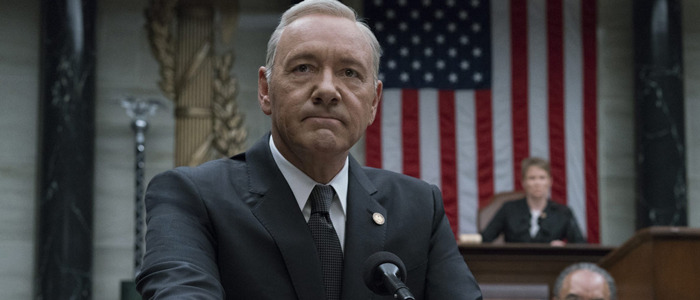 Update #3, 11/3/17: Variety reports that Kevin Spacey has been suspended from House of Cards, a "legally necessary first step toward Spacey's eventual termination." Netflix has also cancelled the Gore Vidal biopic he was set to star in for the streaming service. The official statement reads as follows:
Netflix will not be involved with any further production of House of Cards that includes Kevin Spacey. We will continue to work with MRC during this hiatus time to evaluate our path forward as it relates to the show.
This update aligns with the rumors that the series would kill off Spacey's Frank Underwood and conclude the series with the rest of the cast.
Update #2, 10/31/17: According to Deadline, filming on season 6 of House of Cards has been indefinitely suspended in the wake of the Kevin Spacey allegations. Here's the official statement:
MRC and Netflix have decided to suspend production on House of Cards season six, until further notice, to give us time to review the current situation and to address any concerns of our cast and crew.
Update 10/30/17: Netflix has released a statement regarding the allegations against Kevin Spacey:
Media Rights Capital and Netflix are deeply troubled by last night's news concerning Kevin Spacey. In response to last night's revelations, executives from both of our companies arrived in Baltimore this afternoon to meet with our cast and crew to ensure that they continue to feel safe and supported. As previously scheduled, Kevin Spacey is not working on set at this time.
The original article continues below.
***
House of Cards, Netflix's political thriller series about a corrupt and merciless politician and his network of allies and enemies, is tumbling down.
The streaming service has announced that House of Cards season 6 will bring the series to a close. However, the announcement arrives hot on the heels of allegations against series star Kevin Spacey, which suggests that outside events may have influenced the decision to bring Netflix's flagship series to an end, or at least to announce its conclusion today.
The news broke over at The Hollywood Reporter, who indicate that this was always going to be the final season of the show before allegations against Spacey were made public. However, there's no denying the opportunistic timing of the announcement. Netflix has yet to issue an official statement about the allegations against Spacey, but the cancellation of their first original series, which became a hit with audiences and awards voting parties (if not always critics) can't help but feel like statement in of itself.
Actor Anthony Rapp, who is currently starring in CBS All Access' Star Trek: Discovery, says that Space sexually propositioned him in 1986, when he was 14 years old. Spacey issued a public apology and came out as gay in a move that has been criticized by the LGBTQ community...and just about everyone else.
Former showrunner Beau Willimon, who ran the series for four seasons before stepping aside for Melissa James Gibson and Frank Pugliese, issued the following statement:
"Anthony Rapp's story is deeply troubling. During the time I worked with Kevin Spacey on House of Cards, I neither witnessed nor was aware of any inappropriate behavior on set or off. That said, I take reports of such behavior seriously and this is no exception. I feel for Mr. Rapp and I support his courage."
There is no premiere date for House of Cards season 6, but it will most likely arrive in Spring or early Summer of 2018, following in the footsteps of the previous five seasons.