'Ghost Stories' Trailer: Martin Freeman Leads A Trio Of Spooky Stories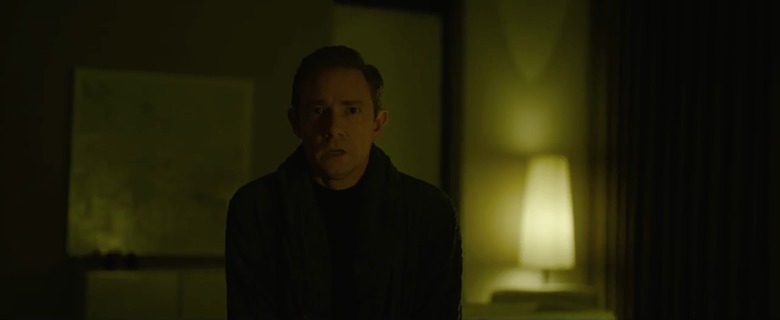 From the '60s output of Hammer and Amicus to Danny Boyle's reinvention of the zombie genre with 28 Days Later, the United Kingdom has always been a dependable source of thrills and chills. There's just something special about horror movies with an English accent. Now, a new movie called Ghost Stories looks to add its name to the nation's line-up of must-see genre movies and all of the right pieces seem to be here: creepy stories, a wry tone, and the presence of strong actors like Martin Freeman to lend credibility to the whole thing. Oh, and it's a horror anthology telling three (seemingly!) unrelated tales, so toss some bonus points its way for that.
The first Ghost Stories trailer has arrived...well, actually the first three Ghost Stories trailers have arrived, teasing the film's three narratives, and you can watch them now.
Ghost Stories is written and directed by Jeremy Dyson and Andy Nyman, who also wrote and directed the stage play on which the film is based. While plenty of horror stories and thrillers have found their way to the stage (Frankenstein, Dracula, The Fly), this is the rare horror movie that is actually based on a horror play, which certainly makes it unique.
IFC Midnight will release Ghost Stories in theaters and on VOD in 2018 and here's their barebones plot synopsis:
Ghost Stories stars Andy Nyman as Professor Goodman, a psychologist and skeptic, who has his rationality tested when he stumbles across a long-lost file containing details of three terrifying hauntings. He then embarks on a mission to find rational explanations for the ghostly happenings.
And here are the trailers, which are suitably creepy and feature all kinds of weird and wild imagery. They are very much teasers, offering little in the way of plot while leaning heavily on tone, but I'm intrigued by what I see.
Ghost Stories Trailers
If you want to know a little more about what's going on beyond the dark rooms and strange creatures, The Hollywood Reporter's positive review of the film from the BFI London Film Festival lays out the basics for each of the movie's three tales:
In the background framing story, Nyman plays Professor Philip Goodman, a TV investigator who specializes in debunking supernatural delusions and psychic hoaxes. But an unsettling encounter with his childhood hero leads Goodman to three unsolved cases that test his scientific skepticism to breaking point. [...] In the first, an embittered nightwatchman (Paul Whitehouse) with a tragic family history suffers terrifying visions while guarding a derelict building once used as an asylum for female patients. In the second, a nervy young man (Alex Lawther) gets caught up in a nightmarish hit-and-run incident with a demonic beast in the depths of a misty forest. And the third stars Freeman as a wealthy ex-banker whose grand modernist mansion is invaded by poltergeists just as his heavily pregnant wife enters the late stages of a traumatic labor.
Ghost Stories is set to arrive in 2018. No specific release date has been revealed.